Ginger Crunch was one of those things that my mother made a lot when I was little. I am pretty sure that this is a New Zealand recipe from way back. The ginger flavour in this slice was not appealing as a child, so Mum and Dad got to eat most of it. Now that I think about it, I am wondering if my mother had some ulterior motive making this.
As an adult I understand why my mother used to make this so often, and not just because my parents wanted to eat it all themselves. It's warm and spicy, buttery and more-ish. This is not soft like a brownie, as the name suggests it is a very crisp slice (bar cookie) and once you start eating it it's very hard to stop. It's pretty intense!
The recipe below has crystallised ginger in it, but often I make this with preserved Chinese stem ginger finely chopped and some of the syrup added into the icing. This is from Julie Le Clerc's "Cafe at home" recipe book.
Ginger Crunch
1 1/2 cups of flour
1 tspn baking powder
1 tspn ground ginger
1/2 cup of white sugar
125 grams of butter cubed
Topping
150 grams of butter
1/4 cup of golden syrup
2 1/2 cups of icing (powdered) sugar
2 tspns ground ginger
1/4 cup of finely chopped crystallised ginger - or chinese stem ginger.
Preheat the oven to 180C/350F Line a 17x27cm deep sided slice pan with baking paper
Place the flour, baking powder, ginger and sugar in the food processor, pulse to mix. Add in the cubed butter and pulse until it's like fine breadcrumbs, it should start to stick together very slightly. The mixture is dry, not sticky.
Put into the baking pan, it will seem like there is a lot in there, but this is the right amount.
Press firmly into the pan making sure that you have even coverage. If you end up with some parts thinner, the base will cook unevenly.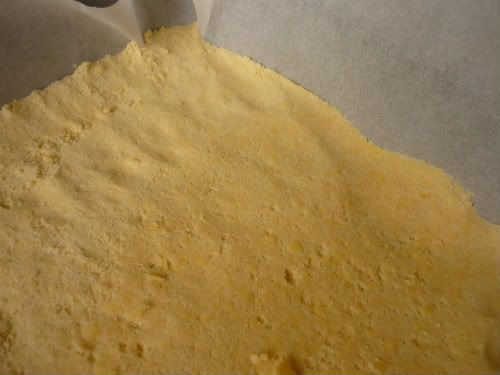 Bake for 20-25 minutes until the base is golden brown in colour.
Remove from the oven and set aside while you make the topping.
A tip for measuring Golden syrup. If you run a metal spoon under warm water the golden syrup will just slide off easily. Of course then you don't get to lick the spoon!
Place the measured Golden Syrup and butter in a medium saucepan and melt together. Add in the icing sugar and ground ginger and stir well to mix, cook for roughly 1 minute stirring the whole time.
Add in your chopped crystallised ginger and stir well.
Pour the topping over the still warm slice, and let cool a little before cutting. If you let it cool completely you will find it breaks when you cut it. Cut into squares when still warm but the icing has mostly set.
If you have someone in your family that loves ginger, they will just love this slice.
I'd love to hear what you think of this if you decide to make it.
Since it's hailing outside (yes, yes - it is supposed to be Summer) I think I might go snuggle under a blanket, with a hot cup of tea, a piece of Ginger Crunch and my knitting.