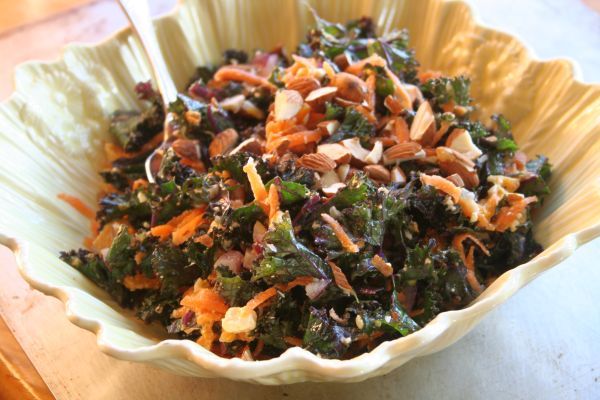 I scoffed at kale eaters. I made comments about the likeness to eating wallpaper. I laughed in the face of kale. Cattle food! In New Zealand cattle eat kale in winter when the grass is not growing. I found it impossible to imagine that I could like it.
Then came the day that I was served kale as part of a dinner when I was a guest. I looked at the pile of kale salad on my plate and resigned myself to chewing through the pile of greens. I knew it was going to be like eating a school book (don't ask me how I know what eating a school book is like).
I discovered to my horror after about five or six mouthfuls that I was actually considering seconds of the salad. I liked it. I asked for the recipe. I've made it repeatedly. I've switched it up a little and come up with some different versions.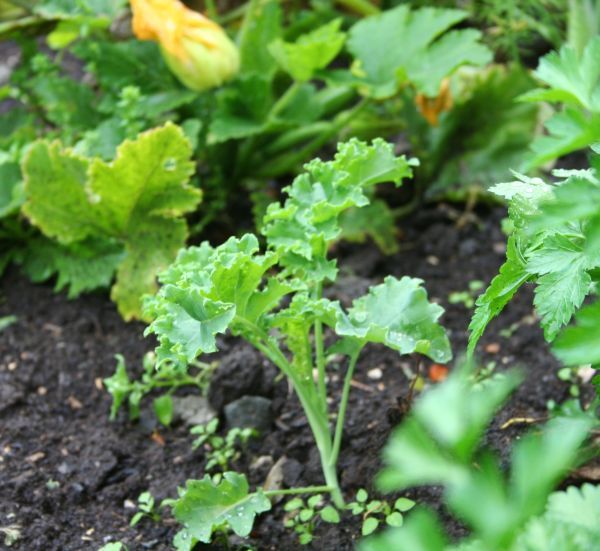 I've even planted kale in my vegetable garden. Look at it all green and growing there!
Last week I took it to a dinner party where people loved it. When they discovered it was kale they were flabbergasted, in a good way.
Kale sneaked it's way on to my table with me kicking and screaming and now I can't imagine my meals without this kale salad in it.
Kale haters, I feel your resistance. But please give it just one chance and you might find this is the recipe that will make you understand why so many people are expounding the virtues of kale.
Nutritious and full of all sorts of good for you things, this salad is a very easy thing to make a part of your diet.
Gelsons is a supermarket that was close to my grandmother in laws (is that a thing?) house in Irvine. I enjoyed being able to trail through the supermarket. Honestly the supermarkets and shops in the US come a very close second to Disneyland.
This tasty little number has enough oomph to be able to take your leftovers to work for lunch the next day and it holds up well to a trip in a container. Team it up with some protein and you have a vitamin and fibre packed meal.
Gelson's Kale, Carrot and Almond Salad.
This recipe was labled Gelson's salad although I cannot see the recipe on their website.
I've adusted it a tad to make it a little more child friendly and to tempt in those that think they are adverse to kale.
4 cups of curly kale. This is normally about 6-7 stems.
1/4 cup of almonds roughly chopped
1/4 cup of sunflower seeds (tamari roasted if you can find them)
2 oranges, peeled and sliced into chunks
1/4 cup of feta cheese, crumbled
a handful of raisins or dried blueberries
one medium sized carrot grated
two small shallots finely diced or 1/4 of a red onion finely diced
juice of one lemon
2-3 Tblspns olive oil
Wash your kale thoroughly and tear into bite sized pieces. Make sure you have removed any tough ribs in the kale, those things are just nasty and better suited to cow teeth.
Now that you have a big wonderful bowl of kale smelling all vegetal and green, add in your other ingredients finishing with the lemon juice and olive oil.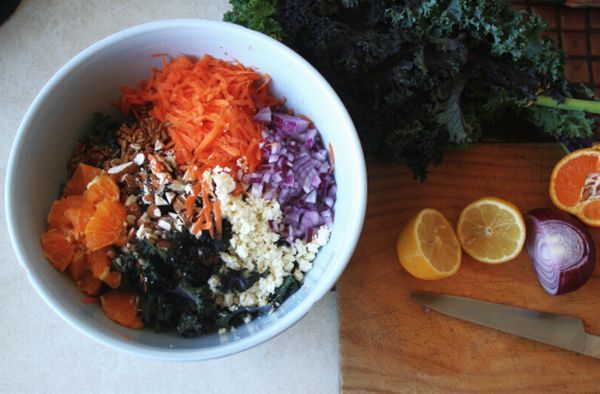 The best way to mix this is with your hands. Mix the ingredients together well with your fingertips until the kale is well coated with the dressing and the lovely chunky bits mixed through.
It really is better if it's allowed to sit for a while before serving to allow the flavours to get to know one another.
It's not the most attractive salad I've ever seen but it's one of the most memorable and I've eaten it more times than I can count. So next time you look at a bunch of kale and wonder what to do with it, give this a try.