I trundled off to the farmers market full of anticipation for the cook off between our farmer's market chefs Alison and Simon Lambert and the Outstanding in their Fields representatives Steve Ellwood and Tony Heptinstall.
I was not disappointed! The chefs had 35 minutes to create a three course meal with some of the beautiful local seasonal produce from the Otago Farmers market. The Race was ON!
My assignment - to re-create one of the dishes that the chefs made.
If any of the chefs are reading this - please forgive me if I have any of these dishes incorrectly described - I might have been overcome by the amazing aromas coming from both kitchens!
Alison and Simon started by serving olive oil infused with rosemary and roasted garlic with some of the incredibly tasty Pain au Levain from Levito Bakery lightly toasted to whet the judges appetite.
This tempter was followed by a Capaccio of Limousin Beef with a light salad of cheese, fresh lettuce and toasted hazelnuts.
Next up was a carefully pan fried sole served on roasted potatoes with a chorizo and bacon sauce.
Finally a light and airy sponge pudding of apples and tayberries and cream.
Here it all is - judging is serious business! All washed down with a nice Rose from Judge Rock Wines. I have to say .. that the wine bottle at this stage is full.. by the time judging was finished - it was completely empty! Not sure if that influenced any decisions or not!
This is the Otago farmers market mobile kitchen - we're treated to Alison's fantastic cooking every week!
Tony and Steve served us pan fried groper with a crispy herb crust and a white wine and mustard sauce with a fresh fennel and apple salad.
I have to say I loved the look of this dish - so much that I really wanted to recreate it at home, and I did, although I'm afraid I don't have any photos of the homemade version - we ate it all way too fast.
Limousin beef minute steaks served with hand rolled wonton wrappers, braised leeks and carrots followed by a creamy rice pudding with a tayberry compote.
Hand making the wonton wrappers for this dish. Apparently the secret is in resting the dough. Not sure exactly how much resting it got with such a tight time limit!
Here they are bustling about creating deliciousness in the Outstanding Kitchen:
Unfortunately I did not get to taste all these creations since they were snapped up by the crowd at a speed faster than light! The things I did taste were delicious and really quite stunning considering they had only 35 minutes to put these together.
I decided to recreate two of the dishes that were served. I made Tony and Steves fish with a herb crust and mustard sauce - but .. we ate it all before I could get a nice photo for you as I mentioned. Sorry about that! I promise I will make it again though. It was very, very good.
Alison and Simon's simple but delicious fruit sponge pudding fared a little better with the photography - since I made it when none of my family were home. Tayberries were sold out when I went to look for them but I managed to pick up some beautiful Waimate strawberries that were frozen in the peak of summer. So even if you are not sure that what you want is in season the farmers market is worth a check, they often have their off season produce in frozen form. So you are still buying a local product. Make sure you get along to a cooking demonstration near you - don't forget to have a look at the Outstanding in their Fields website for details for your area.
This is a delicious homey dessert with sweet apples and berries with a
hint of lemon to cut the sweetness.
Waimate Strawberry and Sonia Apple Fruit Sponge Pudding
Filling
3 large Sonia apples (or other sweet apple suitable for baking)
2 cups of local berries - fresh or frozen
1 level Tblspn of cornflour (you don't want it gluggy!)
2 Tblspns white sugar
juice and zest of one lemon.
Sponge topping
100 grams of caster/superfine sugar
100 grams of soft butter
3 free range eggs
100 grams of sifted flour
1 1/2 tspns of baking powder
1 tspn vanilla.
Preheat your oven to 180C/350F
Prepare your fruit.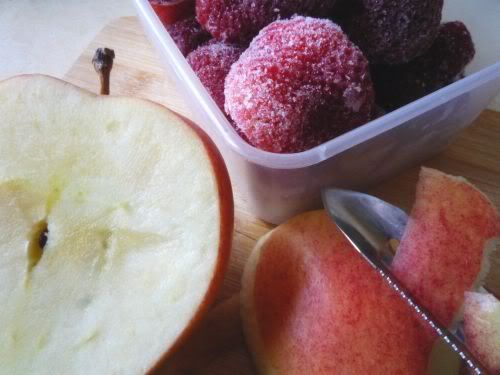 Peel apples chop roughly and place in the bowl with the other ingredients for your filling - mix well, place into a large dish and put in the hot oven while you make your topping.
Beat your butter and sugar together until light and creamy. Add eggs one at a time beating well between each addition.
Add your vanilla and beat well.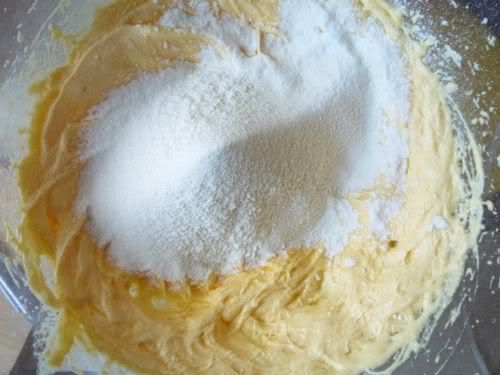 Sift in flour and baking powder and mix lightly. You will have a thick but spreadable mixture.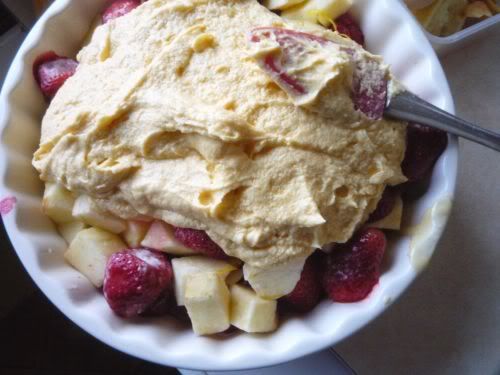 Spread your topping over the hot fruit and bake for 45-55 minutes.
You can see once I've spread the topping over there are a few bits of fruit poking through - this really doesn't matter at all.
You may need to place a piece of foil over your pudding for the last 10-15 minutes of cooking if your sponge is looking very brown. I find I do need to do this.
Putting a skewer in to test for doneness does not work with this! In the centre of the sponge push gently with your finger.. if it feels firm it is most likely done. Just to be sure - take a knife and make a small slit in the centre and push the sponge back just a fraction to see if you have batter - or lovely light sponge. If the worst happens and you remove it and find it out it's not done - toss it back in the oven for a few more minutes. It will still be delicious.
Dust with icing sugar/powdered sugar and serve hot with thick cream.
This is a wonderful family dessert made in a large dish - or it can be divided between individual ramekins for a dinner party look. Cook time will be less if you are making this in single serve dishes.
I really hope no matter where you are in NZ you are supporting your local producers. For those of you overseas I hope you are buying local too - it's a good thing to be thinking about where our food comes from and how it was produced.
Kiwis remember - the Outstanding Kitchen will be coming to a farmers market near you!
The generous producers that donated produce for the demonstrations can be found on the farmers market website.