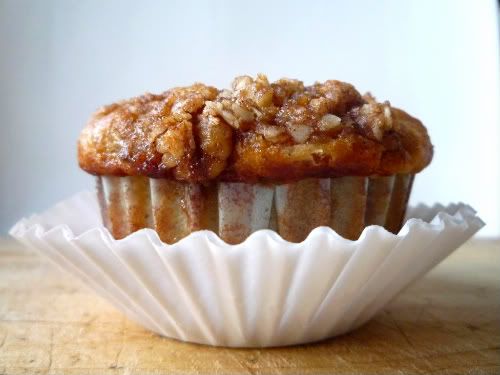 I first made these muffins not all that long ago, but I was quite taken with their texture and flavour. They have yoghurt added to the mix which gives a beautiful crumb. Muffins are one of those week day standbys, 5 minutes to mix and 15 minutes to cook and you have a tray full of muffins ready to be eaten.
I always think muffins are best the day they are made. They do keep of course, but there is nothing quite like a muffin right out of the oven, still warm with the smell of fruit and spices wafting through the house.
My first version of these muffins contained big fat pieces of golden peach and teeny cubes of cream cheese. I gotta tell you they were delicious! This particular muffin base goes well with just about any fruit combo you desire. For those of you with strawberries and raspberries in season, try using fruit flavoured yoghurts to compliment your choice of fruit. Southern hemisphere folk try plums, apples and pears, even open a can of fruit from the pantry if it's too cold to go to the shop - you won't be disappointed.
This mix also stands up well to the addition of wholemeal flour, try substituting half wholemeal and bump up the fibre content. These really don't need a whole lot more explanation, just trust me, these are good! It's a fun recipe to play around with and experiment a little. These tasty little morsels had a mixture of poached plums and apples dotted through them.
Fresh Fruit Muffins with Crumble Topping
2 cups flour
2 tspns baking powder
1/2 tspn baking soda
1/2 tspn salt
1/2 cup of sugar
2 eggs
1 cup of yoghurt (plain or flavoured)
1/2 cup of oil ( canola or grapeseed is good)
1 tspn vanilla
1 cup of fruit of your choice chopped into chunks
Crumble Topping
1/4 cup of flour
1/4 cup of brown sugar
2 heaped Tbslpns rolled oats
2 tblspns chopped nuts (almonds/pecans or walnuts are good)
1 tspn cinnamon
3 Tblspns softened butter
Preheat oven to 180C/350F Grease and line muffin pans
Make your crumble mix first in a small bowl mixing everything together well.
In a large bowl beat together sugar and eggs until pale
Add yoghurt, vanilla and oil and mix well.
In another bowl whisk together the flour, baking powder, baking soda and salt. Add to the wet mix and stir gently until just incorporated. Do NOT overmix this will make your muffins tough.
Gently fold in your fruit until just mixed through. Spoon into muffin pans filling them 3/4 full.
Bake roughly 20 minutes or so until top springs back nicely when pressed slightly.
These muffins are fantastic warm but keep well for a couple of days also IF there are any left.