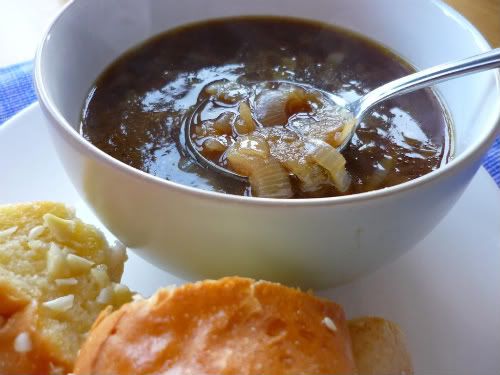 French Onion Soup - Soupe a La Oignon au fromage (that's with cheese). This has been one of my favourite soups for a long time now. I am even prepared to brave chopping all the onions for this soup. Standing in the kitchen with tears streaming down my face thinking about the wonderful brown rich soup they are going to create. I found this recipe on Epicurious many years ago, and it made it into my regular repertoire.
Depending on how much energy I have on the day, sometimes I will make it au gratin. Today however was not one of those days. You'll notice mine is absent the bread and cheese. Nevertheless it was delicious. I can't take credit for the extra chunky garlic bread. Kit made that. It was just as well we were all eating it, there was some serious garlic breath in the house after dinner.
French Onion Soup
6 very large onions sliced finely
1/4 cup of butter
1 Tblspn of flour
1/2 cup of red or white wine (optional)
salt and pepper
6 cups of good beef stock (vegetable stock if you want a vegetarian version)
french bread and gruyere cheese if you wish to make it au gratin.
In a large saucepan cook the onions in the butter over a medium to low heat, stirring regularly. This part is really important. You want the onions to caramelise and turn golden brown and transparent. You cannot cook them fast and get the same result. It takes roughly 40 minutes to an hour or longer to cook the onions this way. But it is absolutely worth it.
Once they are a beautiful golden brown add in the Tblspn of flour and cook for 2-3 minutes stirring the whole time.
Add the beef stock (it's best if it's hot when you add it) and optional wine, stir until it comes to a boil again. Turn down, cover and simmer gently for roughly 20 minutes.
Season the soup with salt and pepper.
Place two or three slices of toasted french bread in the bottom of each bowl. Sprinkle a little gruyere cheese over the toast and pour the hot soup over the toast. This is the best cold weather soup ever.
Please don't be tempted to add cream into the soup or a lot of other stuff, the soup is delicious in it's simplicity.