I've put off posting this recipe for some time, because I simply could not get a photo that even made this look edible. It just looked like a big brown murky mess. It looked more like somewhere a frog would live, than something you would eat.
But this soup despite it's appearance is really a great soup in almost every way. It's not likely to be the type of soup that you would serve to a dinner party, but it is the kind of soup that you would ladle out big hearty servings of to your family with crusty warm bread at the end of a cold day. My kids call it mud soup - because honestly that's what it looks like if it's blended up a bit.
It also has the bonus of being very economical to make. Leah and I worked out that it cost roughly $1 a serve and a serve is complete meal in itself. Destitute students take note - this soup is cheap and good! You'll make your mothers happy if you eat this soup. It's nutritious and filling and like most soups low in fat. I tend to make a vegetarian version, but you could make this with beef or chicken stock if you preferred.
Have you ever really looked at a lentil? I love looking at green lentils, each one is like a little painting in it's own right, swirls of green, blue, brown, orange, black and yellow, no two alike. Small, unique works of art. I love to make this soup, not just because it tastes good, but because I get to look at the lentils - yes .. I know .. slightly odd - but we'll keep that between you and me.
French Green Lentil Soup
This quantity makes enough for roughly 12 good serves - I always make this amount and freeze half of it. It freezes well - but you will need to add a little more stock to the thawed soup when you reheat it. You can halve the recipe easily
It's also quite delicious with slow roasted tomatoes plopped on the top to serve, if you want to make them bake the tomatoes in a 120C/250F oven for 2 hours with a little olive oil, salt, pepper and a light dash of balsamic vinegar.
4 cups french green lentils (De puy)
1 medium carrot diced
1 medium onion diced
1 large leek diced
1 Tblspn ground cumin
2 Tblspns garlic chopped very finely
1/4 cup of olive oil
3L/roughly 3 quarts vegetable stock
Salt to taste
pepper to taste
Soak lentils in cold water for 2 hours.
Place in a large saucepan olive oil, carrots, leeks, onion, cumin and garlic on medium heat. Saute until leeks and onions are transparent.
Add in drained lentils and mix through - add roughly 3/4 of the stock stock, bring to a boil then reduce to a simmer.
Put the lid on and stir every now and then add in more stock if needed if the soup is looking very thick. It normally takes roughly an hour to an hour and a half - it will depend on the lentils though, I've found they will vary in cooking time. So you need to test the lentils for doneness periodically.
Soup is done when lentils are tender and have a smooth texture - add salt and pepper to taste.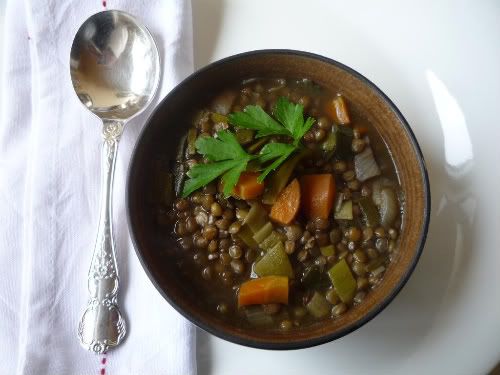 You can cook the soup past this slightly chunky texture and toss some of it in the blender if you prefer a smoother soup.
But I love it like this, full of texture and hearty.
Do give this one a try, it's been a family favourite for a very long time and is a great cold day recipe.
Roughly 200 calories per serve - excellent nutritional value for calorie count!