I've been meaning to give you this wonderful recipe for a tangy French lemon and yoghurt cake for quite some time and finally I have managed to get my act together to post it for you.
I'll tell you all about the new pet after you've salivated over the cake for a bit.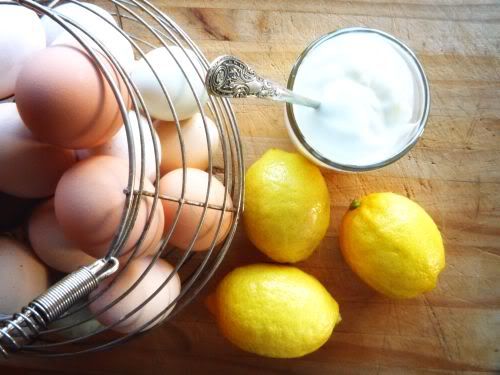 I've had this recipe for a long time. It's completely delicious. It's a large cake. People will ask you for the recipe. You can pretend it's all yours and I won't mind one bit. Tell them it's been in your family for centuries and it's been handed down from mother to daughter or father to son - whatever suits you! I won't tell anyone.
It's a grown up cake. You can produce this for special occasions and people will declare you an amazing baker. The compliments will flow with this cake and there won't be a crumb left.
It's damp, lemony and fragrant. What more could you want?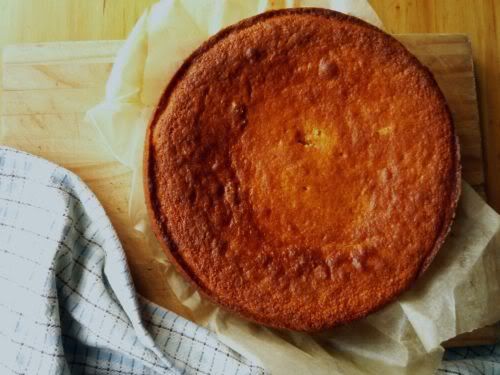 Warm out of the oven you slowly drizzle a lemon and yoghurt glaze on the top. It seeps into the cake to give it the characteristic shine and tart lemon bite.
Please don't substitute margarine in this recipe. It really does need the flavour and the fat from butter to taste right. There are some things you just should not muck about with - this is one of them.
French Lemon Yoghurt Cake
(adapted from Essential Baking)
225g/8oz unsalted butter - softened
300g/10 1/2 oz caster/superfine sugar
4 large eggs separated
2 t grated lemon zest
85ml/3fl lemon juice
250ml/8floz plain unsweetened yoghurt
285g/10oz flour
2 t baking powder
1 t baking soda
1/2 t salt
For the Glaze
115g/4oz icing sugar/powdered sugar
2 T lemon juice
3-4 T plain unsweetened yoghurt
Preheat your oven to 180C/350F and grease and flour or line a large cake pan with parchment - it must hold at least 3 litres/4 2/3 pts. You can cook this in a bundt tin if you wish - but make sure it is well greased and floured.
You will need three bowls to make this cake. It's worth the dishes!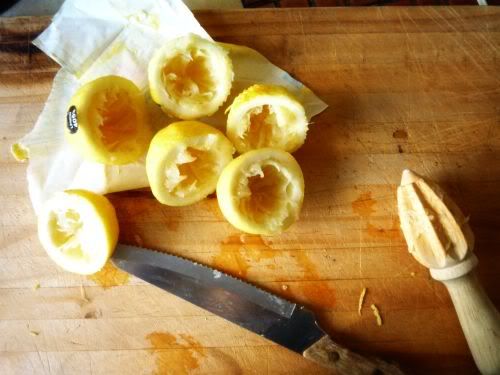 Make sure you have your lemon juice and zest all ready to be added in at the appropriate stage.
Cream your butter and sugar together in a large bowl and add in your egg yolks one at a time. I was lucky enough to have some beautiful free range eggs on hand from my wonderful friend to make this with.
Your butter and sugar should be pale and thick.
Add the lemon zest, lemon juice and yoghurt and stir to blend. It will look like it has curdled at this point, but don't worry - it always looks like this.
In another bowl sift together flour, baking powder and baking soda.
In the third bowl - beat the egg whites and salt to stiff peaks.
Fold the dry ingredients into the butter mixture and add in a spoonful of the egg whites to loosen the mixture.
Add in the remaining egg whites and fold until just mixed.
Pour into your prepared cake pan and bake until a skewer inserted into the middle comes out clean. In a bundt pan this will be roughly 50 minutes. If you have used another type of pan start to check your cake every 10 minutes after 40 minutes in the oven and keep checking until your skewer comes out clean.
Let stand for a few minutes then turn out and cool on a rack.
This cake can be a little fragile when warm so go carefully.
For the Glaze
I like to glaze mine when slightly warm so that the glaze soaks into the cake.
Sift the icing sugar into a small bowl - stir in the lemon juice and yoghurt to make a smooth glaze.
Put the cooled cake on a cake rack over a large flat dish or piece of parchment. Pour the glaze over and let it drip down the sides.
Serve with yoghurt or cream on the side.
Now - to tell you about the pet. His name is Steve - he doesn't really move a lot, only when he needs to. Isaac decided he was a stationary pet. He lives in a willow pattern ramekin on the window sill.
When he needs to move .. he moves with the speed of a predator. He waits… for his prey to come to him.
Not everyone's cup of tea perhaps?
Isaac is a little afraid of insects. I thought this might be a way to help him overcome his fear. He has a total fascination with Steve and checks his water daily. No pet could be more loved.
We read all about this great little stationary pet on flytrapcare.com. Everything you ever wanted to know about your Venus Fly Trap. I had no idea they were native to the US. I imagined them growing in some misty tropical jungle somewhere.
He had a friend over to play today and both the boys were completely engrossed with catching bugs for the fly trap. They decided that slaters ( woodlice) were no good since the last one made the trap go black. The harvestmen that they caught was too light to trigger the trap. Isaac explained to his little friend that the bug had to touch two hairs on the trap to trigger the closure.
They poked around in the vegetable garden a little more and found a centipede to feed to Steve.
They counted the legs.. they remarked on it's colour, they talked about the differences between centipedes and millipedes and where they thought they lived.
Steve - is a wonderful pet - if not completely traditional. He's led to many learning discoveries for Isaac. If you have a child with an inquiring mind - this might be a fun thing to introduce to them. I'm just hoping Steve survives the winter - since it gets fairly cold here.
It is officially the last day of summer here tomorrow (I think) the leaves will start to change and the mushrooms will start to appear under the trees and in the grass. Isaac tells me that Steve will hibernate - so perhaps he'll be alright.