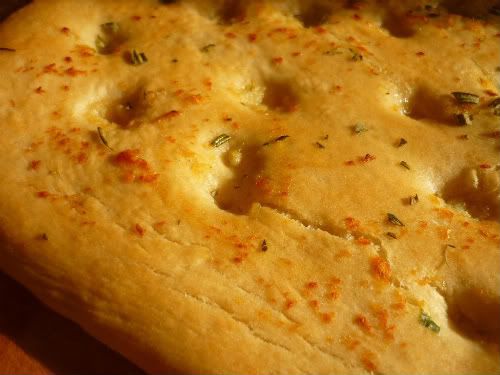 I spent some time in the garden today, pottering about replanting tomatoes and pulling out weeds. The tomatoes are trying hard to produce some fruit, one of my little plants actually has two tomatoes on it! I picked a small handful of strawberries that were the size of blueberries, the tiniest things - ripe and sweet. Some raspberries, the first I've seen on the raspberry canes we have in the garden. I checked out the Romanesco - which is huge! I'm going to have to pick and cook that very soon.
Today felt like a bread baking day. I wanted to use the herbs from my herb pot at the front door, and the garlic from last years crop in the garden, so Focaccia seemed like just the thing.
For those of you feeling daunted by making bread this is a nice kind of bread to start with. A Mediterranean flat bread, that used to be cooked on the hearth or ashes of the fire.
Perfect with hot soups or with a selection of spreads and peppery olive oils for dipping and it looks so impressive! Golden with little dimples sitting in the top for the olive oil to pool in, it's a nice treat. There is nothing like the smell of home made bread.
The recipe I have for you makes two good sized Focaccia loaves.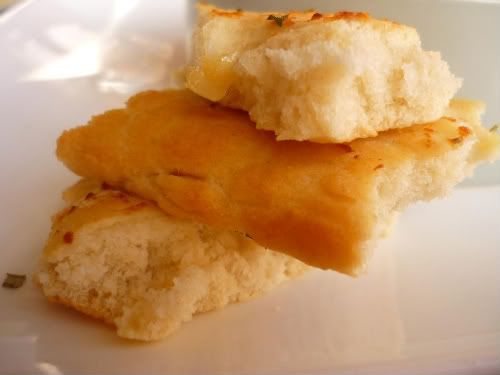 Herb and Garlic Focaccia
2 cups of lukewarm water (divided use)
2 1/2 tspns of active dry yeast
1 tspn of salt
5 cups of flour
olive oil for to brush over the bread
garlic roughly 6 cloves crushed(more or less to taste)
herbs roughly 2 Tblspns chopped (more or less to taste)
Finely flaked sea salt
Place the yeast in a large bowl with 1/4 of a cup of the warm water. Set aside in a warm place to foam for about 5 minutes.
When foamy, add the remaining warm water and the flour and salt. Mix to a dough.
Because the moisture content of flours can vary you may need to either add a dash more flour or a dash more water, use your judgement. You want to have a smooth dough that is not sticky or dry.
Knead the dough for at least 10 minutes until it is nice and elastic. You will feel the dough change as you knead it, it will become more pliable and stretchy. You can of course use the bread hook on a kitchen aid - but I think one of the nice things about making bread is the tactile element.
Put the dough back into the large bowl - smear a little oil over the dough (this helps to keep it cosy) and place a clean cloth loosely over the top. Put the bowl in a warm place for about an hour for the dough to rise - it will roughly double in size.
Take the dough out - knead it lightly to just deflate the dough and put it back as before in the warm place for the second rising, again for about an hour.
When you take out the dough this time it's ready to shape and flavour.
Preheat the oven to 200C/400F
Grease an oven tray with a little olive oil.
Divide the dough in half. Roll out the first piece on a floured work surface to a rectangle roughly 12 inches by 9 inches.Transfer to your greased tray.
Make the dimples in the dough by pressing your thumb into the surface. Then brush with olive oil, the oil will pool in the dimples that you made. Sprinkle the top with your choice of herbs and/or garlic.
This is what the rosemary and garlic version looked like at this stage.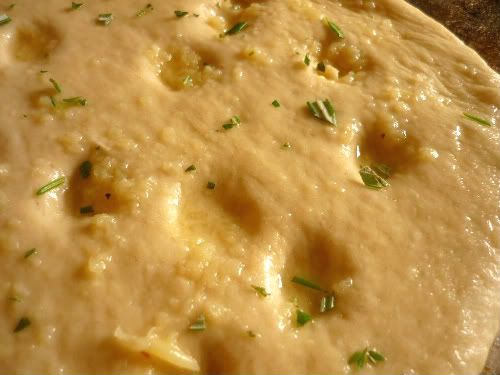 The other loaf I topped with a mix of fresh herbs and sea salt. Sage, oregano, thyme and parsley.
Pop it in the oven for roughly 20 minutes. Keep an eye on it, you just want it to be a light golden colour, not dark brown and crisp. Eat it as soon as it's cool enough to touch. I do cook just one loaf at a time, keep the first one warm covering with a cloth while you cook the second.
We pulled ours apart with our fingers and slathered it with an olive oil spread.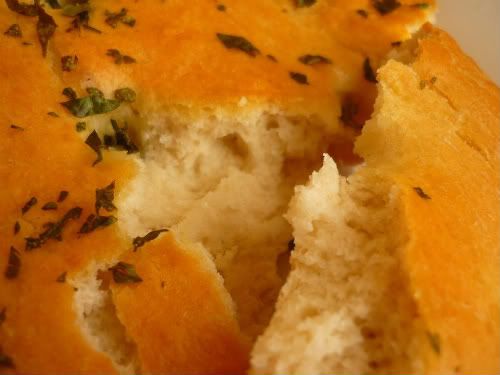 I am not what you would call an expert baker by any means, and bread was always one of those things that terrified me - from a making, not eating point of view.
But I can make this and it always turns out well, so I would encourage you to try it as your first bread making experience if you have not been brave enough to take the plunge.
It's just so nice to be able to sit and enjoy something like this that you have made yourself from scratch, and of course - it's darn good.