I'd just like to let you all know that my camera cable has arrived back on my computer desk safely. So unfortunately I won't be sharing those less than flattering pictures of Leah I was talking about. Perhaps another time?!
I'm working on sharing some delicious things with you, but while you wait patiently, I'd just like to mention that sometimes I forget to buy the ingredients that I need to make things. "Why don't you use a shopping list?" I hear you all saying to yourselves.
Well I do, but it seems that my shopping list is a creative outlet for my family. I get to the supermarket and I either start laughing or just don't bother looking at the list any more since it is full of things like this.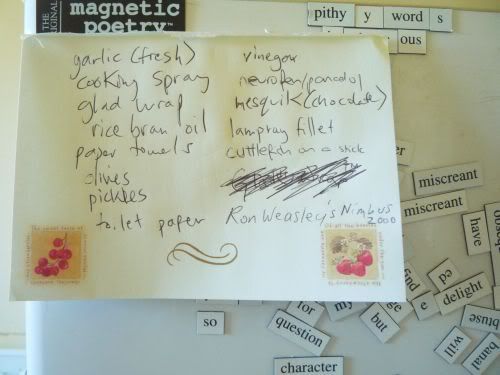 The longer the list is on the fridge, the more it deteriorates into a list of things that either cannot be purchased at a supermarket or don't actually exist.
Sigh…. I promise I will have a food post for you all soon if I can gather the fragments of my slightly addled mind. I'm just off to the supermarket to pick up some cuttlefish on a stick, since apparently we've run out.