This has to be one of my favourite vegetarian meals of all time. I love this dish. I was browsing around [Ravelry (http://www.ravelry.com/) and in one of the food forums someone was talking about Eggplant parmigiana. After reading about it I could not help but make it.
My family swoons over this - except for my oldest son Ryan who hates eggplant. But more on that later. Sometimes the simple things are the best, and this certainly falls into that catagory I think.
I found some wonderful fat purple aubergines, they are in season here at the moment and are not too expensive, so now is the best time for me to be making this dish. I picked up two lovely chunks of cheese, mozzarella and parmigiana. One soft and squeezable and the other hard and stinky! Both just as they should be.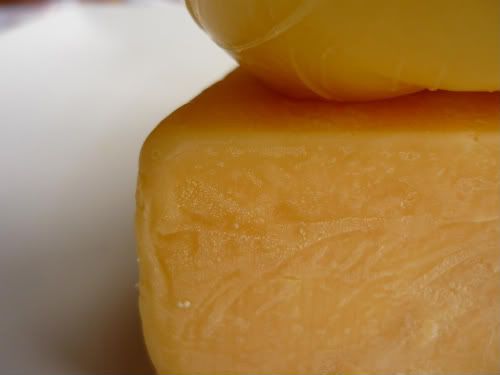 Start by making the sauce, I usually just make a very quick Pomodoro sauce, but slightly thinner than usual so that the egg plant soaks it up nicely. I like my eggplant parmigiana oozing with sauce. If you like your crumbed eggplant to stay crisper then you may well prefer to go with a thicker sauce.
The sauce can simmer while you prepare your eggplant.
Pomodoro sauce
Chop one onion finely and saute gently in a small amount of oilve oil.
Add 2-3 cloves of garlic finely chopped and cook for a minute, do not brown.
Add two cans of chopped tomatos
Add 2 Tblspns chopped fresh basil
Add 2 Tblspns chopped fresh oregano
1/2 tspn of sugar
Salt and pepper to taste
1 cup of water (this is to thin the sauce a little - if you want it thick do not add this)
Simmer the sauce gently on the stove top stirring occasionally, while you crumb your eggplant. You should have at least 3 1/2 cups of sauce. Personally I think more is better. Note: dried herbs are fine in this dish, because the sauce cooks for some time and is baked in the oven.
You can either shallow fry your eggplant in olive oil, or you can spray a baking tray lightly and oven bake the slices for a lower calorie dish. I personally prefer the "not good for you- but oh so tasty!" version, but I seem to make the less calorific one more often.
2 large eggplant (aubergine)
2 eggs
5 cups of breadcrumbs
1/2 cup of flour
olive oil to cook if you are going to shallow fry
Set yourself up with a little assembly line of flour in one bowl, then egg in another, then crumbs and a plate to place your finished slices on.
Cut your eggplant into roughly 5mm slices (1/4 -1/2 inch) and one at a time dip into flour to coat, then egg, then crumbs. When you have crumbed all the slices shallow fry in olive oil until fork tender or bake in the oven.
They should look something like this.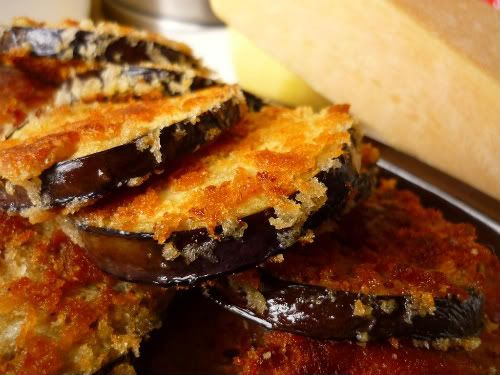 In a large baking dish, start by placing a layer of eggplant in your dish, then top with some of the sauce, followed by a layer of mozzarella and parmigiana. Repeat until you have run out of ingredients finishing with a layer of cheeses. You should get roughly 3 layers of eggplant.
Bake in the oven at 180C(350F) for 30-40 minutes until golden brown, bubbling and tender to a fork.
Just looking at this photo I am wishing I still had some left! If you are scared of eating eggplant I really would urge you to try this - it will make you change your mind.
Oh, and by the way, remember how I told you Ryan hated eggplant? He decided to try this, and then went back for seconds.