I told you I would be making you something for Easter. I bet you thought I'd forgotten. I've been experimenting a little to make sure that I gave you something tasty. Something that you would remember and want to make every year at Easter. So I made you cookies that taste like hot cross buns! I started out with a recipe from Foodlovers and tweaked it a little to get the flavours I wanted.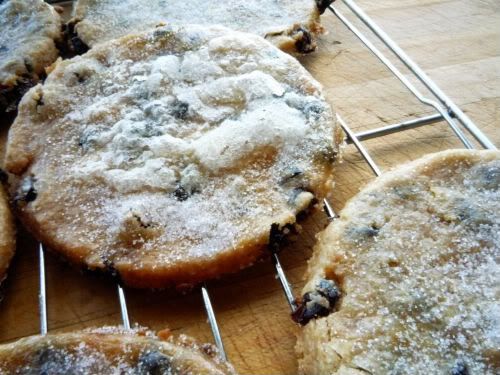 Crisp with a light texture, slightly chewy currants dotted throughout and a hint of lemon and cinnamon. I decided to make them extra large. I cut some into bunny shapes too for Isaac to enjoy. Flavours that a child would not perhaps normally like all that much, but what six year old can resist a rabbit shaped cookie?
These cookies are about 12 centimeters across (about 5-6 inches) and I had no cookie cutter that large, so I had to improvise. Being a Kiwi, that's no issue for me with number 8 wire mentality firmly in my genes.
A quote from Wikipedia:
"This is the idea that New Zealanders display a MacGyver like ability to solve any problem, often using unconventional means or whatever happens to be lying around. This is also described as the Number 8 wire mentality, which holds that anything can be made or fixed with basic or everyday materials, such as number 8 fencing wire."
I used the top of a large vase to cut the cookies out. It was quite a sight I can tell you, because the vase was actually really tall as well. So I was standing in the kitchen stamping out cookies with this massive vase - I'm sure anyone walking in would have wondered what on earth I was doing.
But the result was terrific, I think I am going to have to invest in a really large cookie cutter so I don't have to make these with my vase next time.
These came out of the oven and the smell was just amazing, there is nothing quite like the scent of fruit, lemon and cinnamon. The caster sugar sprinkled on the top in generous proportions had turned into a light crackly crust.
I'm going to share them with you.
Well, you'll have to make them yourself, but I'll be thinking about you making them, that's almost the same as sharing, right?
Giant Easter Cookies
125g butter, softened
3/4 cup of caster (superfine) sugar
Finely grated rind of one lemon
1 egg, separated
1 3/4 cup flour
1 1/2 tspns cinnamon
1/4 tspn Allspice
1/2 cup of currants
2 Tblsp mixed peel
1 Tblsp milk
Topping
Egg white lightly beaten with 1 tspn water
3 Tblspns caster sugar mixed with 1/4 tspn of cinnamon for sprinkling
Beat the butter and sugar together until creamy and light.
Beat in the egg yolk and lemon rind.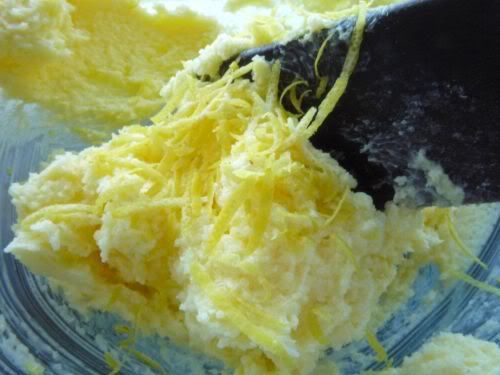 Sift in the flour and spices, add in the dried fruit and milk then mix to make a fairly stiff dough. Don't be afraid to add a tiny bit more milk if you feel the dough is too dry to hold together well.
Roll out on a lightly floured board to 3-4mm thick. Cut into large cookies at least 10 cm (4 inches) across. When you cut them, keep in mind you will be trying to cut through currants, so you need to be very firm with the cutter.
Place on a baking tray which has a sheet of parchment on it to stop any sticking. These cookies do not spread much so you can place them fairly close together. I managed 6 large cookies per sheet.
Bake in a 180C 350F oven for roughly 10 minutes. Remove from the heat, brush the half-cooked biscuits with the lightly beaten egg white and sprinkle each the caster sugar and cinnamon mix.
Return to the oven for a further 5 minutes until crisp and lightly golden. You do not want these cookies to be a dark shade or the fruit will taste burnt. Mine took more like 12 minutes - but my oven tends to be a little on the hot side. Do keep an eye on them.
Leave on the tray to cool for a minute or so before carefully removing to a cooling rack to cool further. These cookies will keep in an airtight container, but I think they are best the day they are made.
Makes roughly 12-14 giant cookies or 26 regular sized cookies.
Wishing you all a peaceful Easter break and time with family and friends.