What? Deviled eggs with hummus - what blasphemy is this?!
I assure you it's all for a very good cause - tastiness and waistlines.
I'm not trying to reinvent the deviled egg which is just perfect in all it's retro goodness. This was just a spur of the moment change based on me desperately wanting to pig out on something savory without adding several inches to my waistline. Yes, there are much lower fat snacks that I could have chosen but I wanted deviled eggs.
So I went to the kitchen tossed the eggs in some water.. then reflected on my impulsive egg craving, knowing that deviled eggs were fairly high in fat and that's fine .. if you just eat one or two .. but I had plans to eat more than that. So I decided I'd better change it up.
Deviled Eggs with Hummus
4 eggs
1 tspn of mayonnaise
1 1/2 Tblspns of hummus
salt and pepper
1/4 tspn of curry powder ( or to taste)
Cayenne pepper or hot Paprika/ chives to sprinkle on top.
I'm pretty sure most of you will know how to hard boil an egg. If not try this.
Place 4 eggs in a pot of boiling water and boil gently for 10 minutes. Remove the pot from the heat and let eggs sit in the warm water for another 10 minutes. Drain.
Peel eggs under cold running water. Avoid very fresh eggs, they are hard to peel.
Cut your eggs in half, gently remove the yolks leaving the whites intact and place in a small bowl.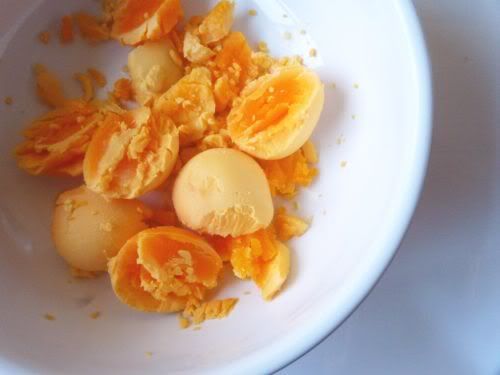 Add in the remainder of the ingredients and mix together well with a fork. You will not get this perfectly smooth because you will have little lumps of hummus through the mix.
Place the yolk mix back into the cavity the yolk came from originally.
You can pipe the mix in or just spoon it. I think because the mix is textured with little bits of chickpea from the hummus the spooned in casual look is spot on. Besides, I could not find my piping bag and I just wanted to eat them.
Sprinkle with a little of the Paprika or Cayenne and some chives.
Eat - and feel less guilty because these do have fewer calories than your traditional deviled egg; but they are every bit as delicious