This Thai influenced salad is a vegetarian variation on yam dtaeng gwa, Cucumber and Prawn salad.
Lisa's Kitchen and Tinned Tomatoes host a monthly blogging event called No Croutons Required where a vegetarian salad or soup is submitted. My oldest child Leah is a vegetarian so I am always on the lookout for vegetarian recipes and variations for her.
I really needed some salads this week after making all those Lamingtons and this seemed like the perfect opportunity to create something. This month the theme for No Croutons Required is Thai, one of my absolute favourite cuisines with it's exotic flavours and bright colours.
I'm lucky enough to have in my cookbook library the most beautiful book, Thai food by David Thompson. It's touted as the most comprehensive book on Thai recipes and culinary skills. It's even covered in gorgeous Thai pink silk. The recipes are amazing and I just love to cook with it and from it. Some of the ingredients can be hard to source, but many are readily available and he offers substitutions for some of the more difficult to find items.
This is an adaptation of one of his recipes.
Cucumber & Papaya Thai Salad
Salad
1/2 a small papaya chopped
3/4 of a small cucumber thinly sliced on the diagonal
3 red shallots sliced
handful of mixed coriander and mint leaves
Dressing
one garlic clove peeled
good pinch of salt
pinch of white sugar
2 birds eye chillies
1 1/2 Tblspns lime juice
2 tspns water
In a mortar and pestle add and crush to a smooth paste in the following order, salt, garlic, chillies, sugar, lime juice and water.
If you are scared of chillies you could reduce the amount in the dressing to your taste and de-seed them.
If you have access to Mangosteens I would definitely add some segments to this. Unfortunately there are none available here.
The dressing should be sour, hot and salty
Toss the salad ingredients and dress.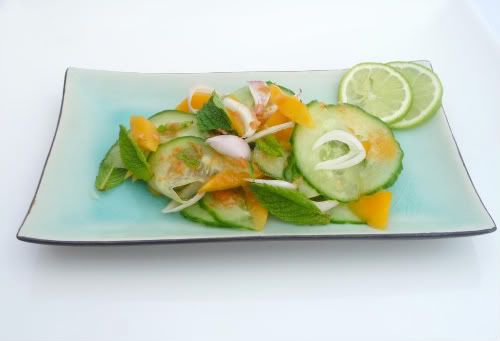 This salad was so elegant and simple. Fresh and cleansing to the palate. I'm making it again tomorrow I enjoyed it so much.