This is one of those things I turn to when I really want to have
something sweet to nibble on, but I don't have much in the pantry and cannot be bothered taking a trip to the store. A simple Almond toffee. It's nice crushed and sprinkled over icecream or just a little slab eaten with a hot up of tea. You can use any nuts really, but I like almonds or sesame seeds generally. They make me feel less guilty about eating something that is basically pure sugar in a pretty form.
I thought I would try putting some cranberries in for a Christmas-y effect, they worked really well and were a nice counterbalance to the tooth aching sweetness of the toffee. This might be nice with some green pumpkin seeds to add to the seasonal feeling.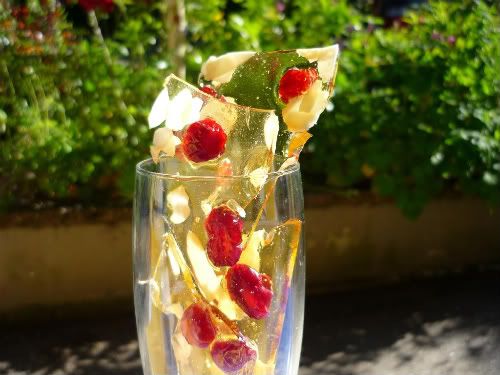 Cranberry and Almond Toffee
1 cup of sugar
1/4 of a cup of water
1/4 cup of flaked almonds
1/3 of a cup of dried cranberries.
Spread your almonds and cranberries on a lightly oiled oven tray, ready to pour your toffee over. You can lightly toast your almonds in a dry pan if you wish.
Place the sugar and water in a small saucepan on lowish heat, warm and swirl the saucepan gently until all the sugar has dissolved. Do not stir - this will make the sugar crystalise. The idea is to have the sugar dissolve before the syrup boils.
Once the sugar has dissolved you can turn up the heat a little (I find medium heat is fine) and boil your sugar water mix. Watch it like a hawk, do not step away from the saucepan - if you do, it will know and it will burn I promise you.
As soon as your syrup starts to turn golden remove from the heat, it will continue cooking once you have removed it. If you leave it too long it will burn. As soon as it is a light golden shade, pour over your almonds and cranberries.
When cooled break into pieces, it needs to be stored in an air tight container, or it will go sticky, on the other hand, you can just offer it to your families and eat it all at once, which is what tends to happen in our house.