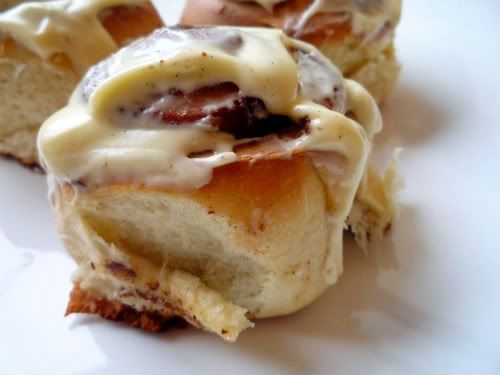 I have a confession to make. I've made these a lot, and I've never shared them with you. I actually always feel guilty about making these cinnamon rolls, because they are simply amazingly good but not really that good for you. I always eat far too many of them, and invariably make a second batch after the first one has vanished in about 2 minutes flat. I'm not sure why I don't just make a double batch in the first place. I love these.
I don't think they should be meddled with though, no low fat margarine, sugar substitutes, or lite cream cheese, these cinnamon rolls deserve only the best butter, sugar and full fat cream cheese you can find.
It's what makes them SO luscious, spicy and delicious. You cannot be in the same house as these cinnamon rolls and stop with just one. Grown adults have been known to lick the pan and scrape the last smears of icing from the bowl!
I know, I'm raving, gushing and pouring on the praise rather thickly. But what can I say? These are one of my all time favourite things to eat, and everyone in my house seems to feel the same way. If you've been looking for a delicious cinnamon roll recipe, this is probably the one you've been looking for. The recipe is slightly modified from a very talented bread baker Linda Stadley from What's cooking America. Thank you Linda for sharing this recipe. I've just given directions for making by hand here, but if you would like bread machine, food processor or stand mixer instructions please refer to Linda's website.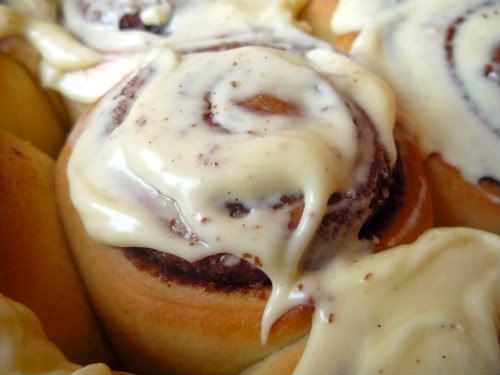 Harvest Cinnamon Rolls
Linda Stadley
Makes 15 Cinnamon rolls.
1 cup milk (heated approximately 1 minute in microwave)
1/4 cup warm water (110 degrees F.)
1 teaspoon pure vanilla extract
1/2 cup butter, room temperature
2 eggs, room temperature and beaten
1/2 teaspoon salt
1/2 cup granulated sugar
5 cups bread flour

3 teaspoons instant dry yeast

Cinnamon Filling

1/2 cup butter, melted or softened
1 cup firmly-packed brown sugar
5 heaped tspns ground cinnamon
3/4 to 1 cup chopped nuts (optional)
Make cinnamon filling and set aside.
Soften the butter; set aside.
In a bowl, combine brown sugar and cinnamon; stir in chopped nuts (optional).
You might like to sift the brown sugar and cinnamon to make sure you don't have any large lumps.
Make Cream Cheese Icing and set aside.
Cream Cheese Icing
2 ounces cream cheese, room temperature
1/4 cup butter, room temperature
1 cup icing sugar
1/2 teaspoons pure vanilla extract
In a medium bowl, combine cream cheese and butter until creamy.
Add in sugar, vanilla extract beat until well mixed and creamy.
Use the icing at room temperature.
Make the Cinnamon rolls.
Put dry mixture in a large bowl Add the liquid ingredients, butter, and egg.
Mix with a knife until it starts to come together into a rough dough.
Turn out on to a lightly oiled bench top and knead until elastic roughly 10 minutes.
Place back into the large bowl - cover with plastic wrap and let rest for 10 minutes.
After dough has rested, roll and stretch the dough into approximately a 15 x 24-inch rectangle. I haul out the measuring tape for this and try to make the edges as even and straight as possible, this makes it easier when you come to roll it up.
Brush the 1/2 cup softened butter (in the Cinnamon Filling) over the top of the dough with a rubber spatula or a pastry brush. Sprinkle Cinnamon Filling over the butter on the prepared dough. Starting with long edge, roll up dough; pinch seams to seal. NOTE: Rolling the log too tightly will result in cinnamon rolls whose centres pop up above the rest of them as they bake.
With a knife, lightly mark roll into 1 1/2-inch section and then slide a 12-inch piece of dental floss or heavy thread underneath. By bringing the ends of the floss up and criss-crossing them at the top of each mark, you can cut through the roll by pulling the strings in opposite directions. Kit likened it to a garotte! I like to make mine slightlysmaller than this and get 17 rolls, I bake 12 in a rectangular pan and 5 in a small square pan.
Place cut side up in prepared baking pan, flattening them only slightly. The unbaked cinnamon rolls should not touch each other before rising and baking. Do not pack the unbaked cinnamon rolls closely together.
Cover and let rise in a warm place for approximately 45 to 60 minutes or until doubled in size (after rising, rolls should be touching each other and the sides of the pan).
Preheat oven to 350 degrees F or 180C and bake for 20-25 minutes.
Remove from oven and let cool slightly. Spread icing while still warm - they're best served at this point. They are still fine at room temperature though if there are any left to cool down that long!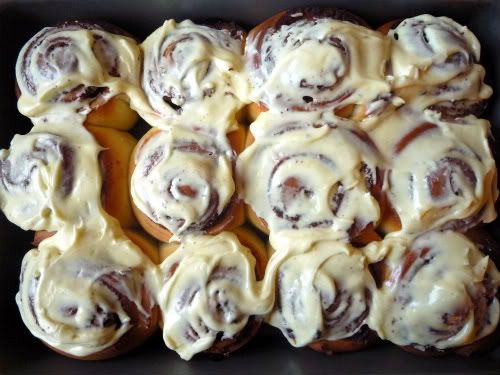 Linda gives more detailed instructions on freezing and storing these. This is the version I like to make with my low tech approach in the kitchen.
I know you'll love these cinnamon rolls. The smell of cinnamon rolls baking at home is just incredible, when I make these everyone in the house keeps checking the oven timer to see when they'll be ready. I dare you to stop at just one!