My Great Aunt May made Cinnamon Oysters. They're are not shellfish, they're little tea cakes.
Let me tell you about my Aunt May. She was a little old lady (she was always a little old lady as far as I was concerned as a child). She gave me chocolates for Christmas, she lived in a house that had a coal range and a rag rug. She always wore a buttoned up coat, hat and gloves when she went out. They all matched.
She wore a very fine hairnet when it was windy. She was never without a handbag and a clean handkerchief.
This is my Aunt May and my Grandmother when they were girls. They remind me of cherubs. Aunt May is on the left.
She smiled a lot and called me "dear". If I called in to see her she would always ask me if I wanted a sherry once I hit my teen years. She always had at least one cat. When she was younger she played the violin, she had one especially made for her since she was such a little wee lady.
There were roses in her garden behind a wrought iron gate. She was never without a brooch on her jacket, normally studded with something sparkly and eye catching. She never had any children, she was a career woman. I seem to recall my mother telling me that the man she loved was killed in the war, and she just never found it in her heart to love anyone else. I loved my Aunt May, she was one of my favourite people in the whole world.
Cinnamon oysters were something that she made for an afternoon tea treat, well into her older years.
Cinnamon Oysters appeared in the 1940's, a very typical little English style sponge cake with cream oozing from the middle.
Lightly spiced with ginger and cinnamon they are a wonderful little mouthful to have with a cup of tea. Filled with lightly flavoured cinnamon cream they make an elegant afternoon tea treat. They are normally made in round bottomed patty pans. I suspect these are peculiar to New Zealand - although I could be wrong! They would be fine made in a muffin pan, although you would not get the characteristic oyster shape. This is the pan all floured and ready to go.
I have to say.. they are little devils to pry out of the pan. The recipe gives the instruction to grease, flour and sugar the pans, this gives a
slightly crystallised coat on the outside of the sponge, but it also makes the little beggars stick! It gives the instruction to remove with a curved knife. Now I don't know about you, but unless it's a knife I've bent using for some non-kitchen related knife bending task, like forcing jammed drawers open or dredging toys up from behind the couch cushions…. I don't have knives with curved blades!
I did find a little grapefruit knife with a slightly curved blade, it was not particularly satisfactory though. You might want to skip the flour/sugar part, unless you are confident you can get them out.
These dainty little cakes come from the era of afternoon teas, and gentleman callers. Silk stockings and hats. If you feel like being a lady - whip up a batch of these light and airy morsels.
Cinnamon Oysters for a Real Lady
Makes 12
For dusting cake patty pans
1 T flour
1 T caster (superfine) sugar
For cakes
2 eggs
3 Tblspn caster (superfine) sugar (45g)
1 Dspn golden syrup
2 Large Tblspn flour (60g)
1 tspn cinnamon
1/4 tspn baking soda
1 tspn ground ginger
Fresh cream for whipping to fill. Icing sugar (Powdered sugar) to dust.
Preheat the oven to 180C/350F. Grease the pans and then dust with flour and caster sugar. Remove any excess.
Warm the mixing bowl and break in two eggs.
Beat the eggs until very light and fluffy.
Add in slightly warmed golden syrup and beat five more minutes until thick and ribbons form.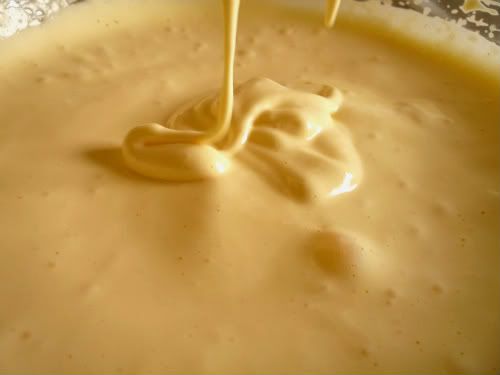 Sift dry ingredients and fold in very gently using a large metal spoon.
Place gently in the pans and bake 8-10 minutes. Remove from the pans while just slightly warm with a curved knife.
Split when cold and fill with cream - plain or laced with a small sprinkle of cinnamon. Dust with icing sugar.
Serve accompanied by tea in china cups and remember your best manners.
In loving memory of my dear Great Aunt May.