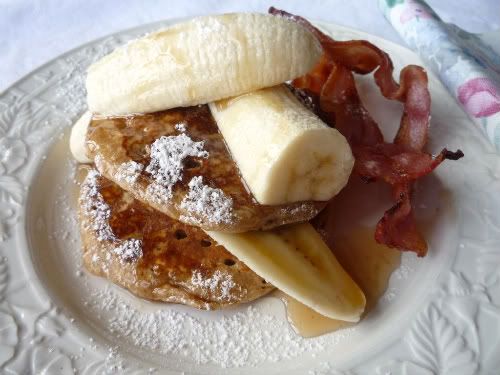 Many years ago I aquired a copy of Caf@Home, this is a fantastic recipe book written by Julie Le Clerc. She's a well known chef and author here in New Zealand. Her food is always stylish and delicious and often surprisingly easy and practical to make. With a family to feed I don't often have time for a lot of fiddling about with food (although when I get the chance I relish it!) and her recipes are often exactly what I'm looking for. My copy of her book is well worn.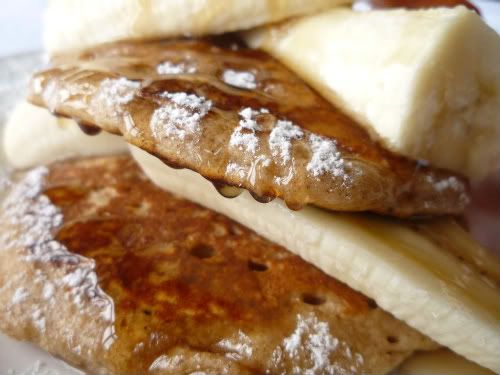 I'm not the kind of person that leaps out of bed in the morning to make cooked breakfasts. Generally a piece of toast or a bowl of cereal are my breakfast staples. Having said that, breakfast is my absolute favourite meal of the day. On weekends I like to make breakfasts and brunch when I can.
My days of early rising are well gone - I used to get up at 4.30 am for rowing practice down on the Otago harbour and then run to school - all before 7 am! I have no idea what possessed me to do that.
Now I haul myself out of bed quite bleary eyed and stagger around the house in a dream for at least 30 minutes when I get up. So I am not up for anything that requires thought in the morning. The beauty of these is that the mixture can be completely made up the night before, stored in the fridge and then all you need to do is pour these and flip them in the morning. With oatmeal, milk, and fruit they are a sustaining breakfast.
Cinnamon Oat Pancakes with Bananas & Bacon
Julie Le Clerc
1 cup of rolled oats
1 cup of milk
3 Tbspns sugar
2 Tblspns fruity olive oil
1 egg lightly beaten
1/2 cup of plain flour
2 tspns baking powder
1 tspn cinnamon
1/2 tspn salt
1-2 Tblspns extra milk if required
bananas, maple syrup, yoghurt and bacon for serving.
Place the oats in a bowl, cover with milk and set aside to soak for 10 minutes.
Add sugar, oil and egg and stir to combine
Add remaining dry ingredients, and stir to combine. If you need to, add a little extra milk.
At this point you can put the whole lot covered in the fridge until the morning if you are making these the night before.
Cook in large spoonfuls over medium heat. Just turn once. These are small pancakes of roughly 5- 6 inches in diameter when cooked.
Serve pancakes with bananas stacked in-between, maple syrup poured over, yoghurt and bacon on the side. Dust with a little icing sugar if wished.
This recipe will serve 4.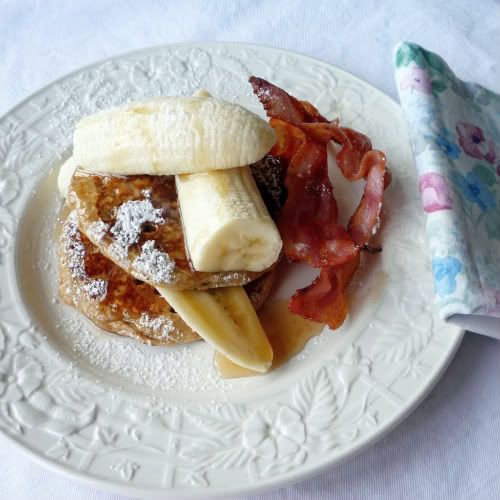 Oh- incidentally these got nicknamed mancakes in our house - I forgot the baking powder in the first batch I did and they were rather umm .. hearty - Still Ryan ate the lot without complaint!