I remember when I was little, Dad would make the porridge (that's what all good Kiwis and Scots call it) and tell me with great gusto, "that will stick to your ribs!" Then he'd regale me with tales of how the Scots liked to put salt on their porridge. Considering I had usually just tipped half the sugar bowl on my porridge to make it palatable, that did not sound that great.
Over the years my father continued to make porridge every morning for breakfast, although I think after a time, it was only Mum and Dad eating it. I was always more of a toast fan.
I also remember really appreciating porridge on wintry mornings when we were getting ready to go out on a hunt (riding a horse kind of hunt- no foxes). As I got older, porridge started to appeal more, but I still find it hard to eat it plain. Isaac asked me for apple porridge this morning, so of course I obliged. Now in my wiser years, I find I quite like it after all. Heart healthy and wonderfully full of fibre it really is a great breakfast. I like the rolled oats or steel cut oats. If you use steel cut oats make sure you soak them overnight to make cooking them the next day less time consuming.
Cinnamon and Apple Oatmeal
This quantity serves four hungry people that need a tasty and healthy start to the day, easily made vegan, and it's also easy to increase or decrease the quantities. Increase the milk, use all water, or low fat milk - it's very flexible.
2 cups of rolled oats
4 cups of milk (or vanilla soy milk)
1 cup of water
pinch of salt
1 apple peeled and chopped finely (or grated if you do not want chunks)
1 Tblspn soft brown sugar
1 tspn of cinnamon
Place the oats in a saucepan with the milk and water. If I can, I like to leave this to soak for a while. If you are really organised, you can place the oats in the liquid overnight and be ready to cook in the morning. Soaking makes the oats a little softer. If you don't have time to soak them, don't worry - it will still turn out just fine.
Add the rest of your ingredients and place on a low to medium heat. Stir occasionally while it's cooking to make sure it's not sticking to the bottom. The faster you cook it the more bite the oats and apples will have. If you like soft oats and soft apple then cook it slowly.
When your oatmeal looks thick and creamy remove from the heat, sprinkle with a little brown sugar, pour over a small amount of milk or cream. This is really a delicious way to start the day.
Now, what's all this about a Kiss you are saying? It's not exactly a kiss, more like KISS the rock band. I want to let you know, we're not going to talk about the fact that I had a KISS Album as a tween and I thought I was so incredibly cool, and that Paul Stanley was just ultra dreamy. We're going to talk about my youngest son again.
Isaac was invited to a party today for a little female friend from his kindergarten. She was turning 5 years old. She decided that she would have a Star party, the children had to dress as either a movie Star, a sports star, a dance star or a rock star.
My little guy decided he would dress as a rock star, and after browsing some images of rock stars online, he picked out …… Gene Simmons….. as the rock star he wanted to be. We hurriedly leapt in the car and went and found a $3 wig and some bling for him to wear and then I got out the face paints left over from halloween.
Trying on the hair …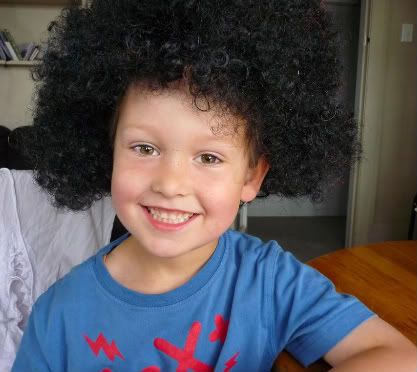 Trying on the pose!
Transformation - complete - Mini Gene Simmons.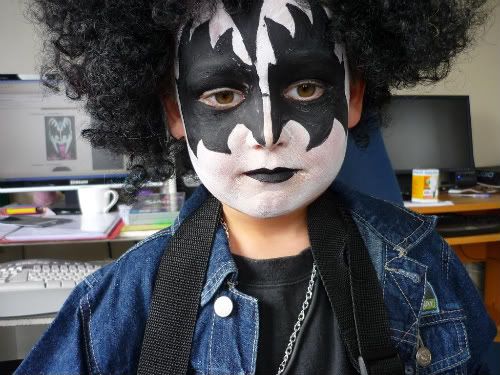 If you look closely you can see the real Gene on the computer behind Isaac. He had a great time - the only boy at the party, among roughly ten Ballerinas. He had a serious amount of attention and way too much sugar, so everything was just as it should be.