This is another cookie that has made it into the Christmas cookie list for me. The only down side to them is that this recipe makes about half as many as I want to eat! So I often double the recipe. Leah made this batch on Christmas Eve with me, we spent the day baking different kinds of cookies for Christmas Eve and Christmas Day consumption.
A soft cookie with a swirl of ganache on the top, a treat to eat, slightly fiddly, but worth the extra effort.
Oh one more thing .. don't be tempted to eat the cocoa and oil mixture that the recipe calls for. It looks delicious…. I mean really delicious... but it isn't. Leah could not help but lick the spoon she mixed it up with, even after I told her that it would not be good. She then spent about a minute drinking water straight from the tap alternating with bleh, bleh, bleh, sounds - told you so!
Chocolate Almond Thumbprints
2 Tblspns Olive oil
3 Tblspns Dutch process cocoa powder (ordinary will be fine too)
125/4.4 oz grams of butter - softened
1/2 cup of caster sugar
1 egg separated
1 cup plain flour
1/2 cup of almonds finely ground in a food processor
100/3 1/2 oz grams dark chocolate roughly chopped
3 Tblspns liquid cream
Heat the oven to 180C/350F and line a baking tray with baking parchment
Combine oil and cocoa in a small bowl and mix until smooth - do not taste.
In a large bowl beat butter and sugar until creamy - then beat in the egg yolk and the cocoa and oil mixture.
Stir in the flour
Make up a small assembly line with a lightly beaten egg white in one bowl, ground almonds in the next bowl and the baking tray last in line.
Take a teaspoon of the dough - roll into a ball - dip in the egg white, roll in the almonds and place on the tray.
Press your thumb or the end of a wooden spoon into each one.
They should look like this: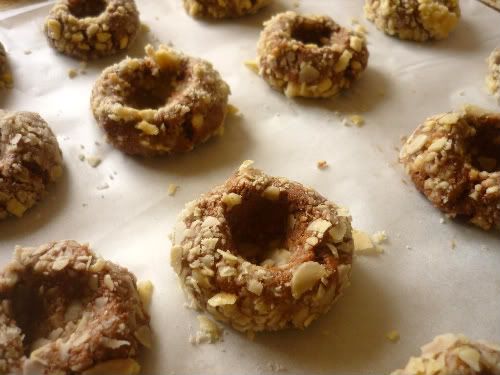 Make the thumbprints deepish, because the centre of the cookie will still rise.
Bake for 10-12 minutes until they are just set. They are not a crisp cookie they are soft. If when you take them out the thumbprint is gone, just push down in the centre of the warm cookie to re-make the print.
Cool on a rack.
When the cookies are cool, melt the chocolate with the cream in a bowl over hot water to make the ganache, carefully spoon a little dollop into the middle of each cookie.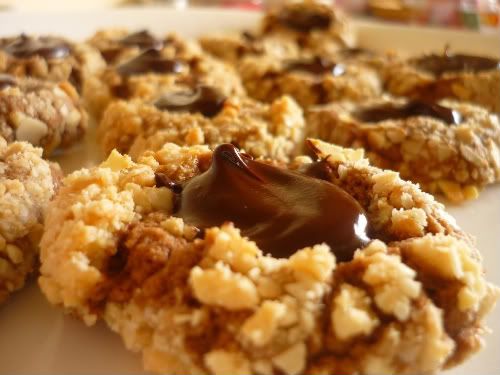 This recipe makes roughly 20 cookies.
Here is my earnest advice. Set aside the nicest looking one just for yourself - eat it while the ganache is warm, and tell everyone that you only got 19 from the recipe.
This cookie below - was cookie number 20. Poor little guy never made it out of the kitchen.