I almost didn't blog this amazing loaf. I've made it so many times that I assumed that I must have posted it long ago. I double checked fortunately, so now you get to find out about it too. Plus I have a regular reader (Hi there Amber!) who has requested something chocolate!
Something a little more special than your ordinary banana loaf, this is peppered with hunks of dark chocolate and banana and has a hint of light spice from the addition of tea Masala. Not the wine, the Indian spice blend. It's readily available in Indian grocers and I've seen it often in the international sections in supermarkets. If you cannot find it you could substitute with Chai syrup, just reduce the amount of milk you add in proportion to the syrup, or you can just leave it out altogether. I often make this just as is, without any additions.
It's quick to make, chocolatey, moist and dark. It's a little different from most banana loaves in that you do not mash the bananas to a complete pulp, so that you discover small moist chunks of banana as you eat your way through it.
It's a cloudy day and I wanted something comforting. Grief hits in waves I've discovered, sometimes there are triggers, and sometimes no reason at all. This is one of those no reason at all times. There is something about chocolate and spice that can lift your mood and sooth a jangled mind. Food is not only about sustenance it's also about creating memories with family, friends, places and sometimes - just sometimes it's about softening the outside world a little too.
If you need a cosy moment and feel like a "food cuddle" try this, it makes the world melt away for a moment.
Chocolate Banana Bread with Masala
adapted from Cafe @ Home - Julie Le Clerc
150 gms butter
3/4 cup caster (superfine) sugar
2 eggs
2 T milk
2 ripe bananas thickly sliced - not mashed
1 cup of self raising flour
1 tspn tea masala
1 tspn baking soda
1/4 cup of dutch process cocoa powder
1/2 cup of chocolate chunks (use a quality chocolate)
Preheat the oven to 180C/350F. Grease and flour a standard loaf tin or line with parchment.
With an electric mixer cream the butter and sugar together until thick and pale. Beat in the eggs, milk and sliced bananas. If you don't have an electric mixer you can use a wooden spoon and stir with lots of oomph!
Stir in your sifted dry ingredients and then add in your chocolate
chunks.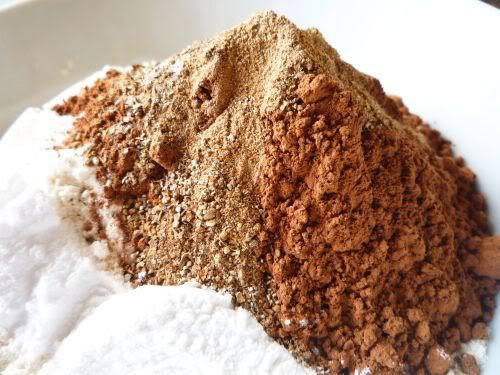 Place in the loaf tin and bake for roughly 45 minutes or until a skewer inserted comes out clean. Leave to cool in the tin a few minutes before turning out on a rack to cool enough before eating.
I love to eat this while it's still slightly warm and the chocolate is still melty and soft. It's a little harder to slice while it's still warm.. but it's oh… so… worth it. Make sure the slices are nice and thick if you are going to cut it while it's still warm.