I think I've mentioned before that I think it's really important that children are involved in meal preparation and in kitchen activities, this is my way of encouraging all you lovely mothers and fathers out there to try it.
Even the smallest child from about 10 months of age can sit on the floor with a few carrots and potatoes (uncooked and unpeeled) in a pot and stir them around, or be given little pieces of things that are being prepared.
Of course with small children comes mess, so it's not something that you want to be doing when you are in a huge hurry. Some things can even be done outside. I'm going to try to make this a semi regular feature (dependant on my small chef's enthusiasm) of course.
Children who are involved in food preparation are less likely to be picky eaters, and more likely to want to try new things. They also grow up to be adults that can cook and bake, and are not likely to reach for the instant packages of food off the supermarket shelf.
Chive Butter by chef Isaac
Make sure you are in a place where mess is ok, and that your small person has an apron on. If they are likely to drop the jar of cream, use a plastic container with an airtight and very firm lid to shake the cream and salt. Make sure your cream only half fills the container - it needs room to expand and move.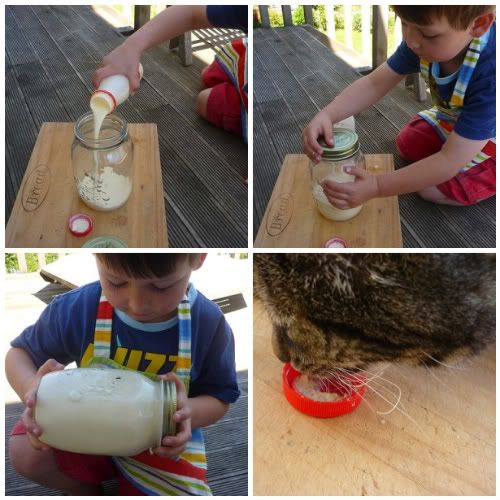 Place a sprinkle of salt in a jar or plastic container that has a lid, and pour in the cream
Put the lid on tight!
Shake like crazy - Mummy helped a bit with this
Turn around and check out the cat licking the lid of the empty cream bottle.
Check to see if it's ready
Check again
Voila! Butter.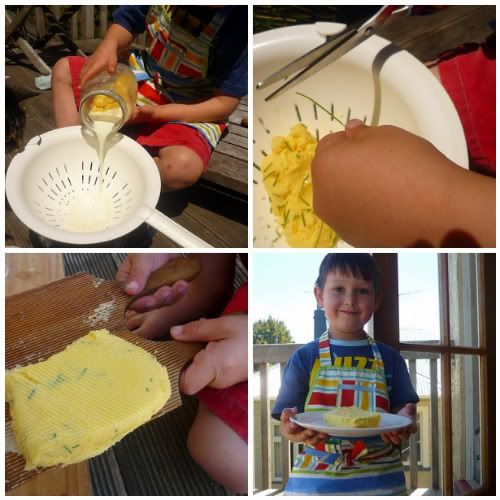 Drain the whey
Snip the chives one at a time - because that way you get to use Mummy's scissors for a long time and you are not usually allowed to.
Get out the butter pats and make awesome patterns on the butter
Look how proud!
Isaac had a wonderful time making this little pat of chive butter.
Some of the things he learned in the 20 minutes it took us to make it
butter is made from shaking cream
you can eat chives, they look like grass but are not really
fine motor skills - snipping the chives, pouring off the whey
sustained movement shaking the jar, adjusting his grip
new language - whey, greasy, milky, herb, chive, butter pat
that cats like cream and like to take part in making butter.
He was very proud of himself, and told each family member about his butter making experience. He had some of his chive butter on a poached egg for his dinner. There is only one down side - and I think it's a small price to pay for the wonderful time that Isaac had.
There was butter everywhere. I am so glad we made it outside in the sun.