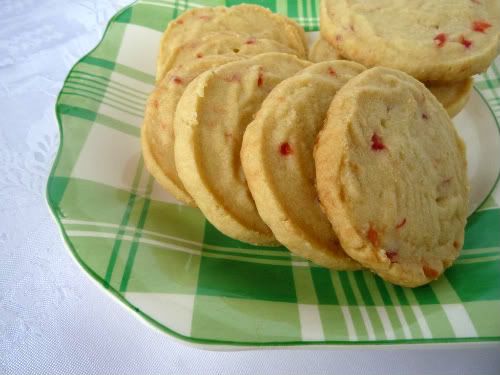 My mother found this recipe for Almond Shortbread when we were searching for the cherry butter cookie recipe. The instructions were non existent and the handwriting was difficult to read, some of the recipe quantities we had to guess. I decided to make it anyway. Since I associate glace cherries with my Grandmother
I opted to make this a Cherry and Almond Shortbread.
I did have a small incident with this shortbread. After I mixed the dough it looked a little on the dry side. After chilling for an hour, it was still a little crumbly, so I then had to backtrack and rub in a little more butter and re-chill. This shortbread has had a little more handling than it should. But despite that, it's not too bad. Considering the excess handling this had it's hard to know what it would be like without it. So I will try this recipe again with the increased butter quantities before I give a definitive verdict on it.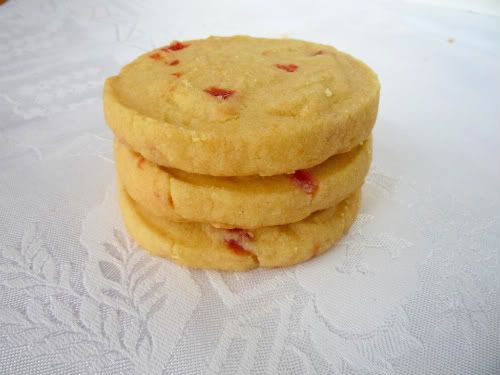 Cherry and Almond Shortbread
150 grams of butter
60 grams caster sugar
250 grams flour
50 grams of ground almonds
1 tspn almond essence
1/4 of a cup of glace cherries finely chopped.
pinch of salt
1 tspn baking powder
Preheat the oven to 150C/300F and line two baking trays with parchment
Sift the dry ingredients in a bowl and add in the chilled butter cut into cubes.
Rub the butter into the dry ingredients with your fingers until the dough looks like fine crumbs and will hold together if squeezed.
Sprinkle over the almond essence and finely chopped cherries and gently mix through with your fingers.
Bring the dough together into a log and place the dough in plastic wrap and chill for at least an hour.
Cut into rounds or rectangles about 1 cm thick. I used a shortbread mould for mine. You can roll it out on a floured work surface and cut it with a cookie cutter or a knife, if you want rounds slice it straight from the log. Cook for roughly 30 minutes in the centre of the oven. The shortbread should retain it's light colour. If you see it starting to darken remove from the oven.