Can you tell school has started back again? Muffins… I have a bit of an ongoing love affair with muffins. I must have made literally thousands of muffins over the years. This will not be the last muffin recipe you see here, I have so many variations that I want to share with you. Sweet or savoury they are so versatile.
Muffins are great to tuck in your bag for a snack for work, perfect for lunch boxes for children and great whipped up for a morning tea for your workmates. I've never had a child object to the vegetables in here either I might add. They are too busy eating these tasty little cheesy bites.
To pump up the cheese flavour you can add additional parmigiana cheese to the cheddar, or for a more grown up version use some interesting cheeses and a dash of chilli or Paprika to the mix. If you want to reduce the fat, use a low fat cheese or reduce the cheddar and add more parmigiana.
One of the wonderful thing about muffins is that they're really very flexible, you can toss in your favourite ingredients and create your own flavour combinations easily. This muffin has the addition of cornmeal
which gives it a slightly interesting texture and taste. I often add a little grated carrot, pumpkin or Kumara (sweet potato) or finely chopped red pepper to these.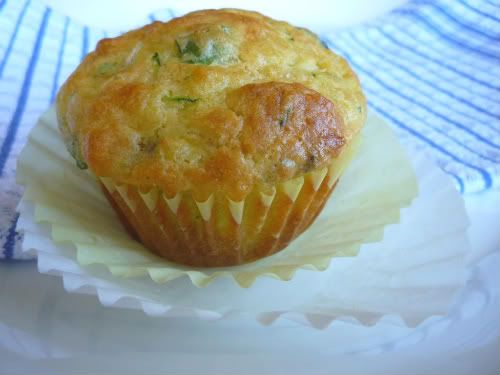 There are no school cafeterias here at primary school level and only a small shop at high schools normally, so the majority of children will take a packed lunch to school.
There is a growing trend in New Zealand to remove all unhealthy foods from schools and that includes in packed lunches. No juice boxes, no potato chips, no sweets and no high sugar foods. Personally, I am all for this and think it's a wonderful move to help our kids develop healthy eating habits right from the start. That's not to say my children don't have sweet treats - they do, but in moderation.
Cheddar & Zucchini Muffins
Makes 18 standard muffins
2 cups plain flour
2/3 cup of fine yellow cornmeal
1 tspn baking soda
4 tspns baking powder
3/4 tspn salt
3 tspns sugar
2 spring onions including green tops, chopped
4 oz of sharp cheddar cheese, grated
1 Tblspn Parmigiana cheese, grated
1 1/2 cups of low fat yoghurt or buttermilk or sour cream.
2/3 cup of vegetable oil
1 large zucchini, grated
4 eggs
Add your dry ingredients to a bowl and whisk together to blend.
Add in your cheeses, onions, zucchini, eggs, yoghurt, and oil and mix together gently until just combined. Do not over mix or your muffins will be pointy and tough, and we don't want that!
Place into greased muffin pans or use liners.
Cook for 12 minutes at 180C/350F. Muffins are done when they spring back lightly to touch and are golden on the top. Cool on a rack and store air tight.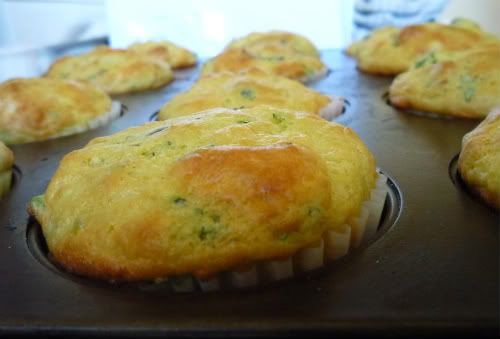 These will freeze well.
Sometimes the best things are the simple ones. Something you can come home and make in a few minutes and have out of the oven just as quickly.
Muffins were a typical afternoon snack for my older children when they came home from school, each child having their particular favourite. I think muffins were one of the first things they learned to bake, with the "do not over mix them" firmly implanted.
Muffins are baked in our house at least once a fortnight and they disappear just as quickly as they were made. Muffins are one of those things that are best fresh and warm team them up with a hot cup of tea or some freshly sliced fruit for afternoon tea.