My mother makes the most beautiful scones, as do many Kiwis. It's the English ancestry that does it I think. Scones and pikelets are a part of NZ life. There is even a special category for them at Agricultural and Pastoral shows - where all the very best scones and the pinnacle of scone making skills are displayed.
I remember my aunt making massive batches of scones for all the shearers that had come to the farm to help with the shearing. They frightened me a little, and I used to hide behind the wool bales with my cousins and watch them cutting all that lovely fleece off the sheep. I'd wait there, knowing that the hot scones would arrive soon and the shearers would usually toss one our way.
My mother's scones were always served with home made raspberry jam and cream. I love them like this and make them quite often. But this tutorial is for Cheddar scones, perfect with a hot bowl of soup. The recipe is an adaptation of the Edmonds
Cookbook scone recipe - which is the one that most people start with when they go to whip up a batch of scones.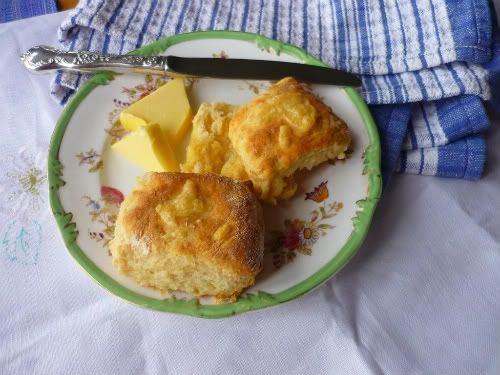 New Zealand Cheddar and Onion Scones.
Place in a large bowl
3 cups of flour
6 tspns baking powder
1/4 tspn of salt
50 grams of butter (chilled and cut into chunks)
Next rub the butter into the flour until it looks like fine crumbs; make
sure there are no big chunks of butter left in the flour.
Add:
one small brown onion chopped finely
1/2 cup strong cheddar
1-2 tspns parmesan cheese
1/2 tspn paprika
Stir through to mix
Add:
- 1 1/4 cup of whole milk (you can use 3/4 cup of milk and 1/2 cup of plain yogurt for a softer scone)
Stir with a knife - or metal spoon to just mix and no more - do not stir the heck out of it - resist the temptation.
It should look like this - a slightly sticky dough.
Place your dough on a floured bench and knead lightly, until it just comes together, flour your hands as much as needed.
Shape gently into a fat rectangle, with the dough about an inch thick - be gentle with the dough, just push it into position gently. You will notice I said gently three - err no 4 times in this little piece of instruction - that's because I mean it!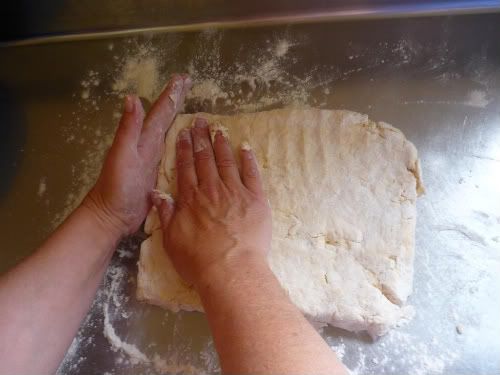 Cut into rectangles. I like to make mine fairly large in size, I
normally cut 12 or 16 scones. If you decide to cut them smaller, keep in mind they will not take as long to cook.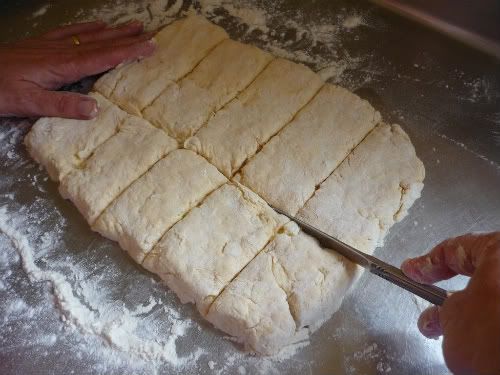 Place on an oven tray fairly close together, with a small gap between each one. You want to give them room to expand, but also close enough that they join together as they cook to force some height into the scone also. So roughly 1 cm or 1/4 inch. Sprinkle a little grated cheese on the top of each scone.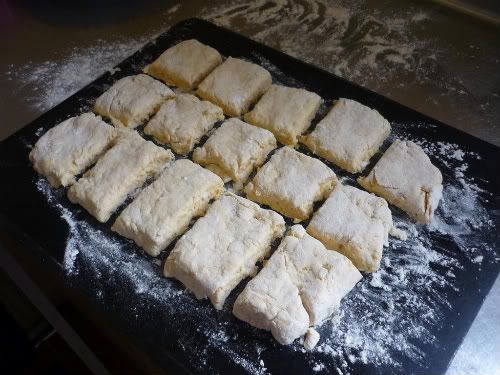 Bake in a 220 C or 428 F oven for 10-15 minutes. Every oven is
different, so keep an eye on your scones and take them out when they are golden brown on the top and springy to the touch. You can cut one of the larger ones in half and take a peek if you are not sure. If you undercook your scones they will be doughy.
Serve while warm from the oven with butter and don't feel the slightest bit guilty about eating several.