A while back I happened to be browsing around for almond recipes, since I had acquired practically a bushel of them. One of the local shops sells nuts and pulses at very reasonable prices in rather large bags and I'm never one to pass on a bargain, even if I have no immediate use for it.
This was when I happened upon Chef
Eddy - also known as "the Prince of Pastry" and his Caramelised Almonds. I am always so envious of people that have had a chance to attend pastry chef's training and have all these fantastic skills. Chef Eddy creates the most beautiful chocolates and desserts.. I'd like to offer to help him in his kitchen or even just stand outside with my nose pressed on the window steaming up the glass so I can just watch him make these amazing creations.
I was pleasantly surprised at how easy this was and I ended up with a jar full of sugared almonds that looked and tasted amazing.
Sophisticated and delicious. I thought these would make a perfect Valentines or hostess gift all done up in cellophane and ribbons. My sister came over not long after I'd made them and I casually said "Would you like an almond?" She put one in her mouth and said "What have you done to these!" (I was thinking - oh no…. I've messed it up…) and then followed it with .."This is the most delicious thing I've eaten in a long time!"
Take it from me, you want to make these, you really do.
Almonds - ready to be transformed.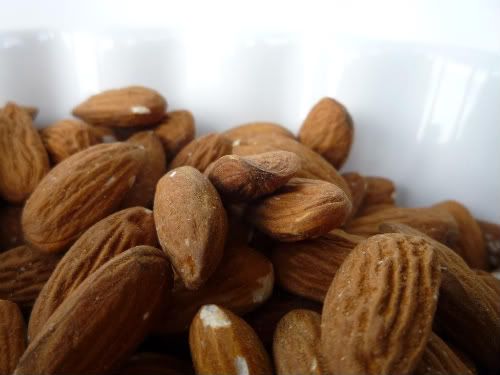 Caramelised Vanilla Almonds
These can be taken a step further and coated in chocolate and rolled in a mix of icing sugar/powdered sugar and cocoa. Today I've stopped at the caramelising stage.
2 cups of almonds - with skins on or off - either is fine
120 grams of caster/superfine sugar
1/4 of a cup of water
1 tspn vanilla paste or extract
pinch of salt
If you wish to buy raw almonds with the skin on, you can use them as they are or you can blanch them to take the skins off easily. I chose to buy them raw and blanch them. If you've bought blanched almonds or you are going to keep the skins on you can skip this part entirely of course.
Bring a large pot of water to a boil - 4 cups of water to every one cup of almonds.
Toss in your almonds and boil for 60 to 90 seconds. Drain in a colander and cool slightly before handling them, they will be hot.
To remove the skin simply squeeze the almond at the fatter end and it will slide easily out of it's skin.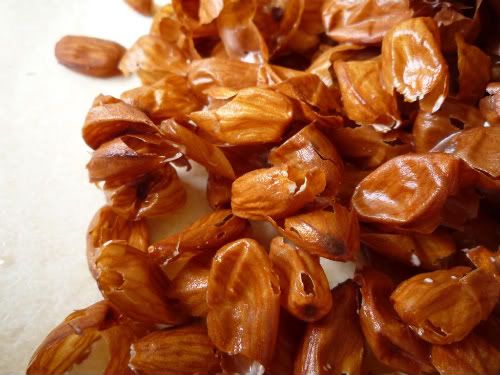 It took me about 10 minutes to remove all the skins, I'm sure it's one of those things that you would get faster at with some practice. I seemed to be gathering momentum at the end. There was something very satisfying about squeezing the smooth almonds out of the rough skin and seeing a pile of creamy almonds appearing in front of me.
Place your blanched almonds in a 350F/180C oven and toast until lightly golden. They get a second toasting in the pan later, so you do not want them completely toasted at this stage.
In a saute pan (or frying pan if you are me) place your sugar, water, vanilla and salt and bring to the boil, boil for one minute
Pop your almonds into the boiling mixture and keep stirring them continuously until all the liquid has evaporated.
Keep stirring the almonds until they are well coated with dry sugar, the pan will sound dry and sugary as you stir, keep stirring for a little longer until the sugar starts to caramelise a little on the almonds. Be careful here, it will burn in a flash, you have to keep moving them about.
Remove from the pan and tip on to a sheet of parchment or a non stick surface like silpat. I separated the almonds once they were on the sheet - but remember that they are hot, they have boiling sugar on them - use a fork to separate any that have stuck together.
You can dust them with a variety of flavours , cinnamon, chilli, wasabi, cardamom, allspice, anise.
You could change your flavouring in your sugar syrup mix and put a complimentary spice lightly dusted over e.g rosewater or orange blossom water in your sugar and dusted with cinnamon.
When cool store completely airtight, or they will soften over time. They will keep for a couple of weeks.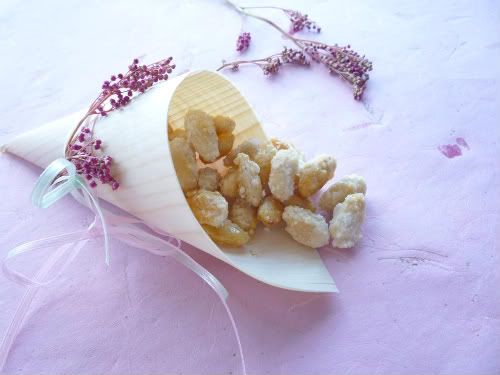 A perfect way to win someone's heart, Chef Eddy has won mine with these, that's for sure.