I normally try to avoid posting the same recipes as other bloggers, but this loaf immediately grabbed my attention and I had to make it. The combination of caramel and apple just sings to my greedy soul!
I'm a sucker for a good loaf, and this one is very worthy of making it's way into my regular recipes. The recipe makes two loaves, which is just as well, because the first one was gone in about 20 minutes. The apple in this loaf means that it's a good keeper, and in fact the flavour of the loaf is better the second day.
You would think with it being spring time here that I might be moving out of the kitchen in the warmer weather.
There are little green sugar snap pea sprouts coming up in my seedling trays and I've been out in the garden quite a bit checking out the daffodils and primroses. There are a few little bright spots of colour trying to emerge. I was forced inside though and started thinking about wintery foods again because of the weather. Yes indeed that is snow you see in the picture. Snow!
Ahhhh spring in Dunedin. Sunny in the morning, raining in the afternoon and by dinner time hail and snow that coated the ground enough to stop us going anywhere. There is a song written by a New Zealander called four seasons in one day, if I did not know better I would think he'd come from Dunedin. I suspect that the same holds true for most of New Zealand. The weather is very changeable here. It might well be sunny in the morning, but you never leave home without your coat and umbrella.
If you find yourself craving something that speaks of warm fires, fluffy slippers and cosy stuff.. give the loaf a try, it has all the lovely warm flavours that comfort you in the cold. This recipe makes two loaves
Caramel Glazed Apple Bread
Recipe from Pass the Sushi (from Betty Crocker originally)
Makes two loaves
1 1/2 cups grated apples (peeled or unpeeled - your choice)
1 cup packed brownsugar
1/2 cup buttermilk (or 1/2 cup of milk with 1/2 tspn vinegar added)
1/2 cup vegetable oil
4 eggs, lightly beaten
3 cups flour
1/2 cup chopped pecans (I used Almonds)
2 teaspoons bakingsoda
2 teaspoons ground cinnamon
1 teaspoonsalt
1 teaspoon ground nutmeg
Glaze:
2 tablespoons butter
1/4 cup packed brownsugar
1 tablespoonmilk
1/2 cup icing sugar - sifted for lumps
Heat oven to 180C/350F. Line two loaf tins with parchment.
In large bowl, stir together apples, 1 cup brown sugar, the buttermilk, oil and eggs.
Stir in remaining ingredients until just mixed. Pour into your lined pans.
Bake 45 to 55 minutes or until a skewer inserted in center comes out clean. Cool completely before putting on the glaze.
Glaze
Melt butter over medium heat. Stir in 1/4 cup brown sugar. Heat to boiling, stirring constantly; reduce heat to low. Boil and stir 2 minutes. Stir in milk. Heat to boiling; remove from heat. Cool to lukewarm.
Gradually stir icing sugar into glaze mixture. Beat with spoon until smooth and thin enough to drizzle. If your glaze is a little thick you can add milk half a Tblspn at a time until it looks about right to drizzle over
Wrap tightly and store at room temperature up to 4 days, or refrigerate up to 10days. If you are going to store it before you eat it, pop the glaze on just before you serve it.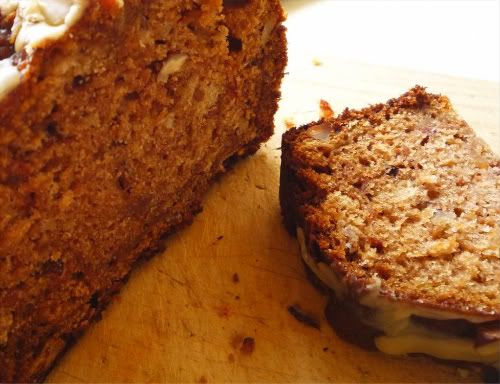 This one's a keeper.