This recipe came from one of my local library forays. I modified a recipe from Carole Walters book - Great Cookies. In a moment of desperation with hardly anything in the cupboard I was looking for a cookie recipe that used the ingredients that I had on hand. In the winter I find myself prone to hibernating and not wanting to take trips to the supermarket unless I have to. Staying in my slippers and turning on the heater and hardly wanting to poke my nose outside the door. But we all do that, don't we?
I think I see it as a kind of challenge, looking in the cupboards and seeing what I can come up with without buying anything. I often think of women who had to cook in the depression at times like this, and I imagine them with only the absolute basics and still having to come up with something to feed their families.
I have a number of depression years cookbooks including a very special one that I was sent recently by a friend. I'm going to be cooking and sharing some of the recipes from it with you all soon. There are all sorts of exciting chapters like "Father carves the fowl" and "Coffee at the bridge table", it's a real treat! Sorry I seem to have wandered away from my topic - but I just had to share that with you.
I really only had the most basic of ingredients and no white sugar. So brown sugar cookies with a handful of walnuts seemed like the obvious choice. That was pretty much all I could make with the selection in the pantry. I also had no eggs, so the ones you see pictured here are made with egg replacer. These are a nice little bite with a hot cuppa, and Isaac seemed to enjoy them tucked into his lunch box.
Walnuts are more common here than pecans, but if you prefer you could add pecans to these. You can chocolate dip them as I have (I did this the following day with half the batch when I was forced to go outside and take a trip to the supermarket) or just roll the edges in some chopped nuts or demerara sugar.
I gave some of the cookie dough to my mother to bake when she was ready. Cookie dough can make a nice little "I'm thinking about you" gift for someone and lets face it, there is nothing quite like cookies fresh and warm right from the oven. Just bundle up the dough with the cooking instructions written down and you have an instant and tasty gift.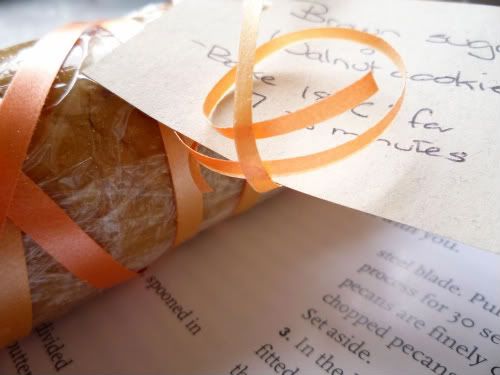 Brown Sugar Cookies with Walnuts
3 1/4 cups of flour
1 tspn baking soda
1/2 tspn salt
1 cup of walnuts finely chopped
200g/8oz butter (softened)
2 cups lightly packed brown sugar
2 large eggs
2 tspns vanilla extract
For decorating: (optional)
1 egg lightly beaten with a tbspn of water
1/2 cup of coarsely chopped nuts
200g chocolate for dipping
Blend butter and brown sugar together until light in colour, then add in eggs one at a time, finally adding in the vanilla extract stirring until combined. I use vanilla paste - if you can get this, it's fantastic, look at all those little seeds in that glorious amber syrup.
Sift in your dry ingredients (flour, salt, baking soda) and add in the finely chopped walnuts. Mix until well combined.
Shape into three 20cm/8 inch logs roughly 4cm /1 1/2 inches in diameter, wrap in plastic and chill until firm. This dough will keep in the fridge for up to three days or 1 month in the freezer.
Preheat the oven to 180C/350F.
Using a sharp knife slice the logs into cookies roughly 1/8th of an inch/1cm thick. Obviously you can make these slightly thicker or thinner depending on your personal taste, but cook time will need to be adjusted.
Decorate with nuts before baking, using the egg wash to help the nuts adhere to the cookie. If you wish to chocolate dip them you will need to do this once the cookie is cooked and cooled.
Bake for 7-8 minutes or until golden brown. These cookies may be frozen.