Made in the kitchen from your everyday staples - a luxurious treat for your body. Smoothing away all those rough bits and moisturising your skin. Leaving you smelling absolutely delicious! Sugar scrubs sell for lots of dollars! A quick search revealed some priced between $35.00 and $68.00. Most sell for around $15.00 This homemade version which smells delicious cost just a few cents to make and does a wonderful job.
It smells amazing with vanilla and coffee as the predominant scents. It smells good enough to eat - and no doubt you could.. but I would not recommend it*
More than likely you already have everything you need to make this scrub.
Kahlua Body Scrub
1 cup of soft brown sugar
1/2 cup of olive or almond oil
1/2 tspn vanilla
1 tspn of fresh ground coffee
Mix all your ingredients together and place in a jar with a lid.
To use grab a large tablespoonful of the scrub when you've almost
finished your shower - rub on damp skin with circular motions and then rinse off.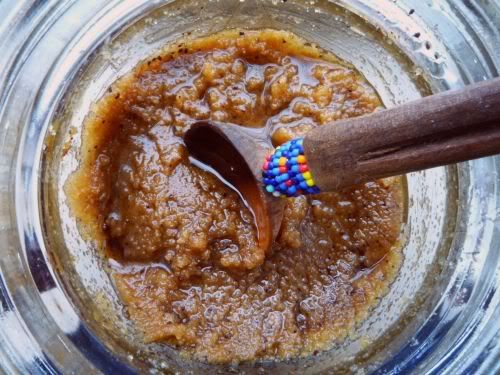 In this photo you can see the oil has started to rise to the top, this is completely normal just give it a good stir before each use.
Your own special homemade beauty product for a fraction of the price.
Storage: It will be fine just in the bathroom for a couple of months - but if you don't plan on using all you've made within that time; I suggest that you add 1/4 cup of salt into the scrub as a natural preservative.
Make sure you keep a lid on your scrub - if water gets into the scrub the sugar will melt and bacteria can grow.
If you are not sure if your scrub is still good - give it a sniff - if it smells bad - toss it.
I hope you enjoy this one , it takes literally a couple of minutes to make yourself this little treat.
Happy scrubbing!
*Footnote: Apparently according to the 6 year old - it tastes amazing and he's eaten several spoonfuls - makes his skin feel nice as well .. but that was definitely an aside to the taste. To answer Isaac's question - neither the oil nor the sugar scrub is poisonous.