I promised you all a little more about my surrounds while I was on
holiday, so I am trying to take my camera with me when I head out the door. I do want to share a little of this fantastic country at the bottom of the planet with you all as well tales of my family and of course my passion - food.
A ten minute trip down the Bay from our house is the Broad Bay China Shop. It is an unassuming little house with all kinds of treasures tucked away within the walls of a very small cottage surrounded by roses. It's down a winding back street about fifty feet away from the sea, you would honestly not even know it was there.
By complete accident I spent two hours here this morning. There is so much to see in this tiny shop, it's literally packed from ceiling to floor with china, silver, glassware and linen. None of it is new, but that's part of its charm. My mother kept saying "It's like a trip down memory lane" I know I saw lots of pieces that reminded me of my childhood.
You have to inch through the house - not just because you are completely terrified of knocking over something and breaking it, because there are so many bits and pieces to see and corners to poke about in. There are canteens of silverware in old wooden boxes lined with velvet, rolls of music for player pianos, jewellery, crystal, embroidered linen baby gowns, heavy china chamber pots and fine bone china.
As I mentioned.. there is really not a space any where in the house - so the owner has moved stock outside! There are three more rooms out the back which have been added on to accommodate the china and linen. Step stools to stand on so that you can see the pieces on the top, and little chairs to sit on so that you can examine dishes at your leisure.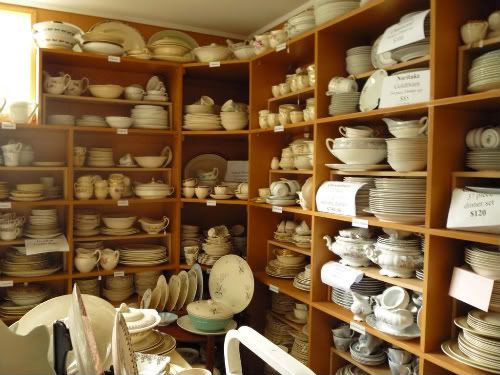 I went there with the express purpose of getting a handful of bargain plates and dishes to photograph food on. I came away with $50 worth of china and with thoughts of putting a beautiful old antique dinner set on hold. I found some wonderful crockery, which no doubt you will find in some of my recipe posts including some more uranium glass!
If you live in New Zealand and you are in Dunedin, this is really worth a visit. But do make sure that you have plenty of time because it's so easy to lose hours in there, as evidenced by me arriving in the morning and forgetting to have lunch and leaving in the afternoon.
Everything from kitschy to fine bone china is contained in this rose smothered house. If you are just visiting - make sure you take a little time to call in. Sue More has done a fantastic job putting together all these collectable items. You can make an after hours appointment if you are on limited time.
I'm thinking about going back tomorrow to take another look at the linen, don't tell Kit!