Breton Buckwheat Pancakes: I pulled one of my recipe books out of my bookcase in a moment of aimlessness - I was not quite sure what to do with myself - the book that I pulled out of the shelf was Culinaria France.
Kit bought this book for me some years ago and Ive loved reading it and drooling over the pictures many, many times, but Ive never made anything from it. I thought Id better rectify that by making Galettes.
Isaac and I went down to Taste Nature to buy some buckwheat flour to make this very old traditional dish from Breton. I love going there, they have boxes and baskets of food stacked and mounded up much like an old fashioned general store would have. Every different kind of flour and grain imaginable and some of those hard to find less common ingredients in rows of jars and peeking out of bags.
I'd imagine that most health food shops would stock buckwheat flour. Buckwheat arrived in France with the Crusaders, it became very popular because it grew fast and well, and it could not be made into bread so it was not subject to any taxes.
Galettes were an integral part of the diet in Breton, a custom was formed around them where a bride would throw the first Galette baked in the house onto a cupboard as a tribute to the previous owners of the house to ensure domestic happiness. These were traditionally baked over wood fires which gave them a smoky flavour. But of course now hotplates and frying pans are used.
They fell out of favour when wheat flour became more readily available, but there has been a resurgence in their popularity as people find interest again in traditional foods.
It does need a little chilling time in batter form so do allow for that when planning to cook these.
Bretonne des galettes au blé noir - Buckwheat Pancakes
Ive filled these Galettes with some sharp cheddar cheese, a thick slice of ham and then placed a sunnyside up egg on top of those. Its very common for Galettes to be folded into this square package and filled with a fried egg, ham, sausage, cheese, vegetables or fish.
You can make a slightly lighter pancake by substituting half of the buckwheat flour for wheat if you wish.
This batter can sit happily overnight in the fridge - so it would make a great breakfast dish.
makes 12 galettes
2 cups/250 grams of buckwheat flour
1 egg
2 cups/500 mls water
1 tspn salt
2 Tblspns melted lard or vegetable shortening
Butter to grease the pan.
Seive the flour into a bowl, form a hollow in the centre of the flour and crack the egg into it.
Whisk in and then slowly add the water and salt to make a batter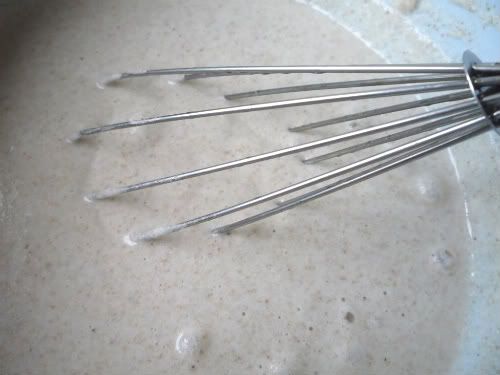 Set aside in the fridge for at least two hours or overnight.
I found I needed to thin this slightly after chilling to get the right consistency to turn into a crepe.
After chilling add in your melted vegetable shortening and whisk through. Cook in a hot greased frying pan as for crepes.
If you would like to fill them as I did you will either need a decent sized hotplate or two frying pans.
Once your Galette is cooked on one side, flip it over and place on the top (the cooked side) a sprinkle of cheese and a slice of ham. In another pan or on the side of the hotplate fry an egg sunny side up until the egg white is cooked through. Slide on to the top of the slice of ham and fold the edges of the galette around your filling. Sprinkle a little more cheese over the top.
These were just delicious, the pancakes both nutty and substantial, filled with salty ham and smooth rich egg yolk.. so very simple and so very good. I would not have believed how delicious these were until I tried them. This is a case of less is more.