Bread and Butter Pudding immediately reminds me of my childhood. Dancing around in front of the TV in my nightgown with my sister. We would watch Mad Movies hosted by Bob Monkhouse and Happen Inn with Ray Columbus and The Chicks. This has got to be one of my most enduring childhood memories. That and the red Raleigh 20 that I got for my 6th birthday. I named it Flash and used to pretend it was a horse. It had a basket with flowers on it attached to the handlebars. I loved that bike!
Check out Ray and the Invaders on the link there.. so funny and so very, very sixties cool.
Sometimes at the end of the day after a warm bath and climbing into warm PJ's Mum would make bread and butter pudding. On special occasions we would be allowed to eat it at the child sized table, watching TV. Normally we were at the dinner table and the TV was turned off.
It would turn up all puffed up with soft custard and plump raisins peppered throughout. A sprinkling of crusty sugar topped it off. I still like bread and butter pudding, although I tend to vary it a little more and not dance around in my nightgown when I make it.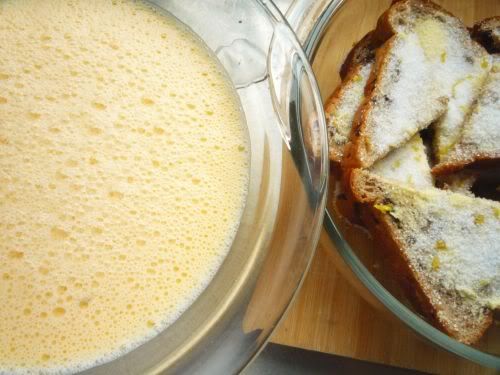 I wanted to share this version with you all, it's such a quick and easy dessert and open to so many variations. I've used cinnamon fruit bread in this version, scattered a little lemon zest through it and poured a sherry and vanilla custard over the top.
Make it with brioche, chocolate swirled bread, old croissants, sourdough or even just plain white sandwich loaf. Layer with jam, marmalade, chunks of chocolate or fruit, flavour your custard with rosewater, vanilla, orange, lemon, or warm rum. It's only limits are your creativity. Serve it family style in a large dish or press into individual serving dishes and dust with confectioners sugar.
Bread & Butter Pudding with Sherry Custard
8-10 slices of fruit bread with cinnamon (not extra thick)
2 cups of milk
3 large eggs
pinch of salt
butter (soft enough for spreading, please don't use margarine)
2 Tblspns of sweet Sherry (you could use dark rum)
1 tspn vanilla
1/2 cup of sugar
zest of one lemon finely grated
Butter your bread thickly and cut each piece into 4 triangles. Place a layer of buttered bread into a greased deep casserole dish.
Sprinkle with some of the sugar and the grated zest. Continue layering bread, zest and sugar until you've used all your ingredients.
In a separate bowl beat together your eggs, milk, vanilla and sherry until mixed together well. This will create your custard. Pour over your bread and sugar and let it soak for 15 minutes.
It's going to look something like this at this stage. Not particularly appetising!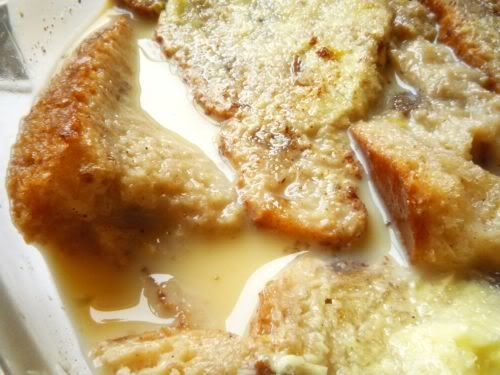 While your pudding is soaking preheat your oven to 180C/350F.
After your pudding has sat aside for 15 minutes place in the oven.
Cook for 40-50 minutes until golden brown and a knife inserted into the centre comes out clean.
Serve immediately with cold ice-cream or cream. Your pudding will sink a little on cooling. It looks nothing like it's original incarnation before it went in the oven. Warm, soft and custardy underneath with a crisp caramelised sugar crust. This is comfort food at it's finest.
You can dance in your nightgown if you want.