The Lamington War is on, well at least according to Ms Humble of the wonderful Not so HumblePie. I love this blog, she gives a wonderful story about Lord Lammington - or Chuck as she refers to him. Isaac started making a Lamington yesterday before we noticed the competition over on Delicious delicious delicious for a Lamington inspired concoction. Isaac had said he wanted to make blue Lamingtons - of course five year old boys like electric blue food. The competition is open to everyone, so why not?
Four days of rain and he was starting to bounce off the walls so
something a little more time consuming like a Lamington was fine. He did need a little help with certain parts of this. But the bulk of it he did all by his little five year old self. Watch out Ms Humble - you have a five year old challenger on your hands!
Blueberry Lamingtons - Chef Isaac
The Genoise (or cake bread as Isaac refers to it)
4 eggs
125 grams caster sugar/superfine
125 grams plain flour
15 grams butter - melted
Mums and Dads you will need to start this bit off for your kids since there is hot water involved.
Whisk the sugar and eggs in a bowl over simmering warm water until thick pale and warm. About 5 minutes.
Isaac took over at this point. Remove from the heat and beat for about 10 minutes with a hand mixer until tripled in volume and thick and pale.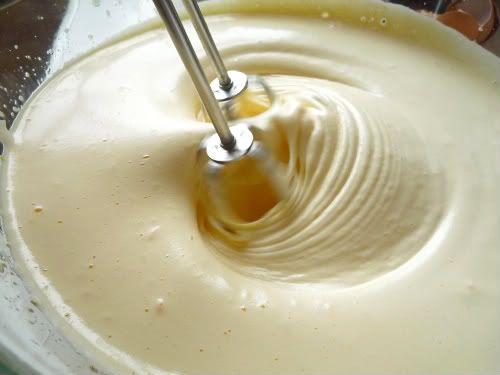 Sift your flour over in three lots, adding the melted butter just before the last lot of flour. Fold in with a metal spoon - very carefully.
Pour into a well greased and floured 8 inch/20 cm square cake pan and bake for roughly 15 minutes at 180/350F or until a skewer inserted comes out clean.
Apparently spreading flour around the cake pan and kitchen is fun! Isaac was dancing all over the kitchen with the pan.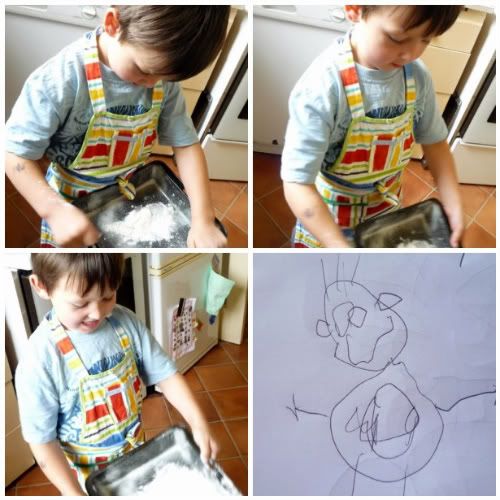 Leave the cake in the pan for 10 minutes after it's done and while you're waiting, draw an awesome picture of a man, then turn the cake on to a cake rack to cool completely.
Isaac and I did this bit yesterday and then left the cake in a sealed container. He was keen to get back to it today.
Make up one bowl of blueberry Jelly/Jello. Leave it to almost set in the fridge
While your Jelly is cooling down - make the blueberry cream cheese filling
Blueberry Cream Cheese
1/2 cup of cream cheese softened
1 large Tblspn of Blueberry conserve/Jam
Taste the cream cheese while you think Mummy is not watching
Add in some blueberry jam
Mix till it's smooth
Taste.
Cut your genoise into squares. Fill a dish with coconut to roll them in.
Sandwhich your genoise together with blueberry cream cheese.
Brush them with jelly and roll in coconut to coat.
OR Isaac's alternative method.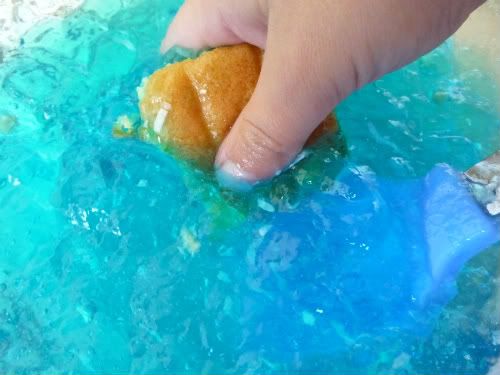 Dunk your squares of genoise into the jelly, swirl it around, squeeze the jelly through your fingers, put your genoise on the bench and lick your hands. Then get another handful of jelly and eat it. Wipe your hands on your T shirt…..
Roll filled squares of genoise in coconut and squeeze together - hard.
If you actually want to be able to eat your blueberry Lamington, I don't suggest Isaac's method.
The result?
Actually, amazing! They were moist and delicious the blueberry cream cheese was great and after sitting for a while the jelly made the coconut moist.
What Isaac Learned making this.
Eggs get really puffy when you beat them with sugar
It's fun to shake flour all over the kitchen and dance with a cake pan
Blue jelly is squidgy and you can actually pick it up in your hands if you try
Coconut is like bits of string but nice to eat
How to measure weights on the scale and that the lines mean numbers.
It's hard to cut straight lines on cake
If you squeeze cake it gets flatter
Making Lamingtons takes a long time and it's messy
Mummy will finish what you started but got tired of.
It was a long activity for Isaac, but he did enjoy it. It would be more suitable for a slightly older child - so that you get more than four Lamingtons made before your little chef starts looking for their slinky.