My little Isaac turned 5 today. I can't believe it. That means starting school is just around the corner and from there it's a quick trip to whiskers in the bathroom sink and girls calling on the phone. It goes so quickly!
Isaac and I made a variety of things for his birthday party, but I thought I would share the cupcake recipe that we use for this kind of thing, which is quick and makes a nice plain cupcake base. It can be easily varied with other flavourings if you want to do something a little different. But it's a good base to start with.
This recipe is adapted from Nigella Lawson's " How to be a Domestic Goddess"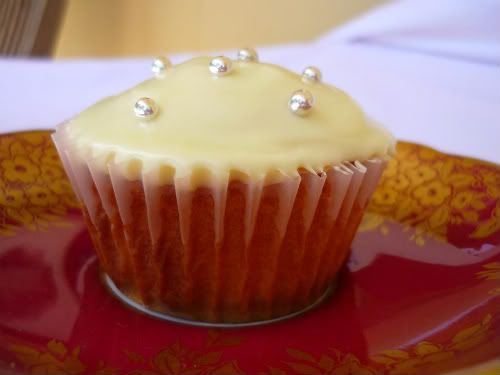 Birthday Cupcakes
125 grams butter - softened
125 grams sugar
2 large eggs
125 grams self raising flour
1 tspn vanilla extract
2-3 Tblspns buttermilk (or milk)
For the Royal Icing
1 egg white
icing sugar (powdered sugar)
food colouring
1/2 tspn vanilla
Preheat the oven to 200C.
Place all the ingredients for the cupcakes in the food processor and pulse until mixed. Don't be tempted to whizz it for a long time because it's fun to watch, this will make the mix tough. Add the buttermilk last to make a smooth mixture. Divide evenly into the cupcake pans (I like to use a paper liner) and bake for roughly 10-15 minutes, until golden on top and cakes spring back when touched.
Cool on a wire rack and ice with Royal Icing when cooled. Don't be tempted to ice them when they are still warm, or your icing will not set nicely.
To make the icing: Place the egg white and vanilla in a small bowl, add in icing sugar a little at a time until you have a spreadable icing. I can't give you exact quantities here because it will depend on the size of your egg white. Just go with your instincts.
If you would like pastel cupcakes - make sure that you only use the teeniest amount of colouring to get a nice soft colour. Spread evenly over the cakes and add on any decorations that you would like. I cheated for these ones and just used bought decorations.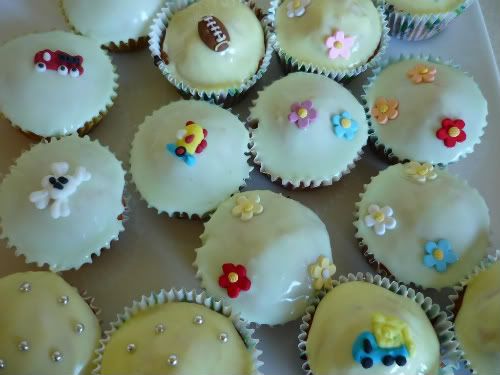 Isaac and I also had fun making some tropical fruit kebabs, which are really not worth posting a recipe for because they just involve sticking fruit on a skewer. A combination of watermelon, strawberries, pineapple, rock melon and marshmallows looks pretty and is usually pretty quickly devoured by small people. It's also a nice way to have children helping in the kitchen.
I'm a firm believer that healthy eating habits and skills in the kitchen start at an early age, so I am all for finding ways of getting kids into the kitchen to help with food preparation.
Isaac had a great time making these fruit kebabs.
I have to finish this post with something that made me laugh. Isaac and Granny went out shopping for some shoes for his birthday - with very scant instructions from me to just get something that would be fine for school, some gym shoes or something like that. So they went together and bought something and I completely forgot about it until Granny came with his gift on his birthday.
Isaac kept telling me that his favourite colour was black as he was opening the package.
You'll notice the slightly satisfied smile on his face as he opens his package.
This was the result.
A pair of Converse All Stars - exactly the same as his older brothers! Perfect evidence that children learn from those around them and that big brothers are completely awesome.
I'll leave you with this today.
Happy Birthday - my little pirate!