I can already hear the mutterings of "they are supposed to have poppy seeds". I didn't have any you see, and it was raining and cold and the supermarket seemed so very far away - please forgive me. The rest of you that are not muttering about the lack of poppy seeds are saying "What on earth is a bialy?" A bialy is the polish cousin of a bagel. The bialy gets its name from the "Bialystoker Kuchen" (Bialystok Cake) Bialystok is a city in Poland.
From my limited knowledge of bialys, they have a similar sort of texture to bagels. They are both round, bialys are baked, bagels are boiled, a bialy has no hole in the middle and has a filling in the depression in the centre. Fillings would have traditionally been garlic, onion, or bread crumbs. They're spread with butter or cream cheese, but never cut!
Bialys are no longer made or known in Poland according to the Oxford companion to American food and drink. However from sneaking about on the interwebs it seems they've been renamed in Bialystock to cebularze or cebulaczki, which means onion. It's sometimes called a "lost bread".
Being an avid bagel lover I had to try these out despite my lack of bialy experience. I have no one here to tell me if these are authentic enough, but they all vanished quickly so I know they are good at the very least. I based this around the recipe found at smitten kitchen, with a few allowances for working the dough by hand instead of with a mixer and adding an egg white glaze for a crisper crust. You may choose to just dust them with flour.
It would be a huge shame for knowledge of this bread to die out and all its tastiness fade into oblivion. Bake some and revive the bialy. Be a responsible world citizen, these are too tasty to become extinct!
This recipe is for bialys that do their first rise overnight so they can be shaped and baked easily the following morning so you do not have to be up with the birds to have hot bialys for breakfast.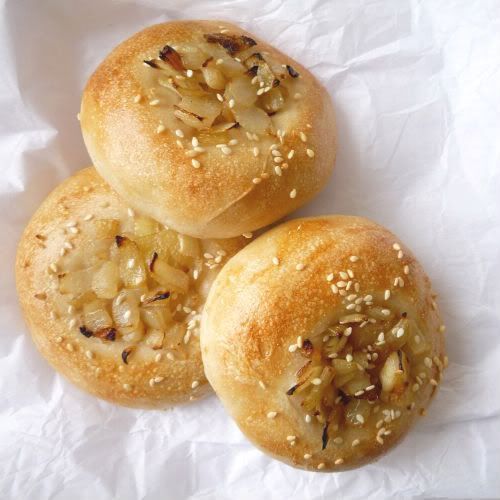 Overnight Onion and Sesame Seed Bialys
Makes 6 Bialy's - recipe easily doubled.
Dough
2 cups of bread flour
1/2 tspn instant yeast
1 tspn salt
3/4 of a cup of slightly warm water - more if needed.
Filling
one medium onion finely chopped
1 tspn of oil
sesame (or poppy seeds)
egg white mixed with 1 tspn water if glazing.
Add your flour and instant yeast into a large bowl, whisk together. Add in the salt and whisk in.
Add your water gradually into the centre of the bowl slowly mixing out from the centre to the outside as you pour. You should have an ever so slightly sticky dough which comes together and cleans the bowl. If you need a little more flour or a little more water, don't hesitate to add it in small amounts to get a workable dough.
Knead for roughly 8 minutes. You should have a silky elastic dough.
Brush the inside of a large bowl with a little oil and oil the top of the dough. Cover with plastic wrap and place in the fridge overnight. If you wish to make these and eat them on the same day, at this stage just set aside to double in size in a warm place.
Remove your bialy dough from the fridge in the morning and let rest for 10 minutes or so at room temperature. Give a gentle knead after resting.
Shape your bialy as follows and place on a parchment covered baking tray.
Cut your piece of dough into 6 evenly sized pieces.
Pull the edges of the dough to the bottom to make a round ball.
Pinch the ball in the centre and slowly move your fingers to the outside moving around in a circle to make an indentation in the centre. Stretching the dough slightly if you need to. Make the indentation wider than you think you need to because as the dough rises the indentation will close. They will spring in a bit when you place them on the tray also.
Place evenly spread out on your baking tray and cover with a clean cloth and set aside in a warm place to rise until almost double in size (1-2 hours). If you do not want to place an egg white glaze on them, give them a gentle dusting of flour at this stage.
Make your filling at this stage. Gently caramelise your onions over a medium to low heat with the tspn of oil until they are golden. You can add your seeds to the onions once off the heat, or sprinkle over the
top. Set aside.
Allow 30 minutes to pre-heat your oven to 250C/475F. Place an oven proof dish of water in the base of your oven and a pizza stone (if you have one) or a baking tray on the lowest rack if you have one. This will give you a nice crisp crust on your bialy.
If your indentations have vanished, prick the centre of the bialy with a fork where your indentation should be.
Place a tspn of filling in each depression. If you are glazing them, brush with a little egg white mixed with a tspn of water and sprinkle your seeds over the top, making sure some are in the centre of the bialy.
Place your bialy filled baking tray on the pizza stone or directly on top of the baking tray that you have preheated in the oven. Bake for roughly 7-9 minutes or until golden brown.
Wonderful slightly warm and just out of the oven, with little bits of warm caramelised onion. They are best eaten the same day they are made, but they will freeze well.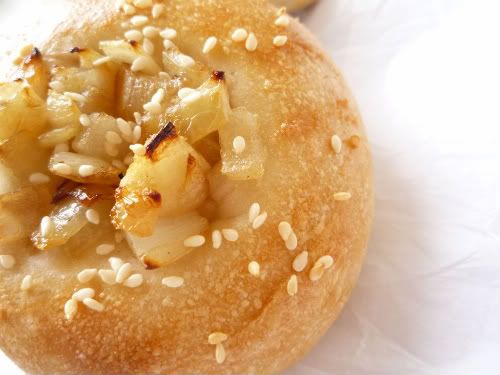 This is a very easy bread to make and they certainly beat any bagel I can get locally. Bialy's will be a regular weekend occurrence in our house I think.
Save the Bialy!