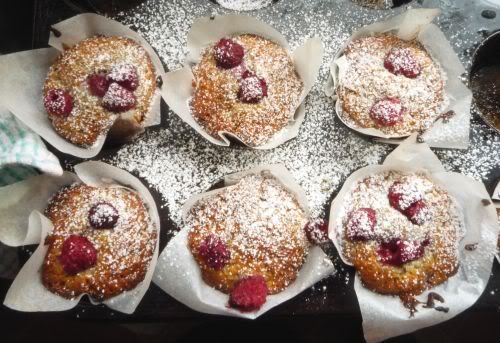 There are some recipes which just sneak your way into your regular repertoire quietly. They don't get placed in your recipe book with a flourish and huge anticipation of the next time you'll make it. You just find yourself seeking it out .. over and over and over again - because it's good. A hint of stoneground wholemeal flour and packed with fresh berries - seriously what more could you want?
This muffin recipe is one of those sneaky ones. I've found myself making it again and again and again. It's earned a place in my regular list.
It's a muffin that has enough heft to stand up to being soaked with berry juice. Have you ever bitten into a muffin loaded with berries only to find that it's half cooked? That there are also lumps of raw batter and berry just sitting in sodden clumps at the bottom? I know I have on more than one occasion.. and it's horrible! You'll not get that
happening with these. They will be cooked through perfectly in all their berry glory.
They do have quite a bit of butter in them, I would imagine
margarine would be fine to substitute - I haven't tried this though so I am only guessing.
You'll notice in the title that I've mentioned what they were cooked in. I didn't do that to be super fancy. I often find myself without any muffin cases because I am somewhat vague and forget to buy them. I usually only discover it once I've started to make a batch of muffins normally. Most muffins are fine without any cases and can just be baked directly in the muffin pans. Some muffins do need cases though, anything with a lot of fruit or bits of chocolate that are going to firmly adhere to the pan are better with muffin cases.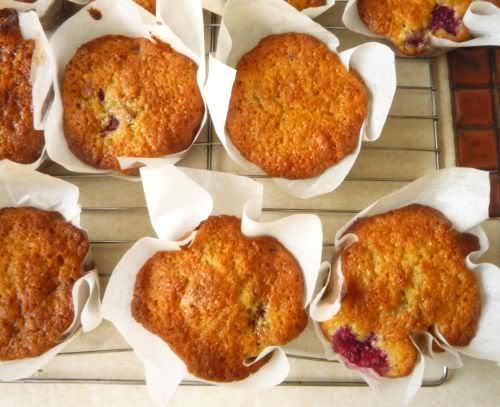 Using parchment is a good option when you find yourself lacking a muffin case. Often people seem to think your muffins are much more elegant when they reside in these. When in fact it's normally a bit of a ghetto solution to no cases on hand. Another bonus of using parchment is that the muffin won't stick to it - no peeling bits of muffin off the case.
They make a wonderfully large batch - some to eat, some to put in the freezer or give to a friend.
Beautiful Berry Muffins
makes roughly 16-24 regular sized muffins.
170 grams butter ( or margarine)
1 1/2 cups raw sugar (or white)
3 large eggs
1 1/2 tspns vanilla
1 cup of sour cream (or buttermilk or plain yogurt - you may use low fat options)
1/4 cup of low fat milk
1 3/4 cups of white flour
3/4 of a cup of wholemeal flour ( stoneground if possible)
2 t baking powder
1/2 tspn baking soda
1/2 tspn salt
2 cups of berries of your choice - cut very large berries like strawberries into pieces. Frozen berries are easier to cut than fresh.
To make your parchment cases, simply cut squares of baking paper roughly 14cm/ 5 inches square. Spray a little non stick spray into the bottom of each muffin pan and then press your parchment square in there, creasing the folds firmly. You may find they pop back up, don't worry they will be fine once the batter is sitting in them.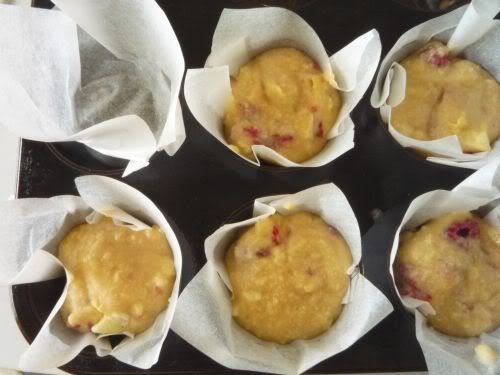 Cream the butter and sugar together until thick and pale. Add in your eggs one at a time beating well after each addition. Add in your vanilla, sour cream and milk.
Sift in your dry ingredients and stir quickly and gently - by hand being very careful not to overmix. Don't make your muffins tough!
Lastly add in your berries reserving half a cup or so for the top.
Bake in the oven at 180C/350F for roughly 25-30 minutes. About half way through cooking quickly and carefully and place a few berries on the tops of the muffins, since much of the fruit will sink during cooking.
The muffins are cooked when they spring back lightly to the touch in the center. Do not undercook these muffins.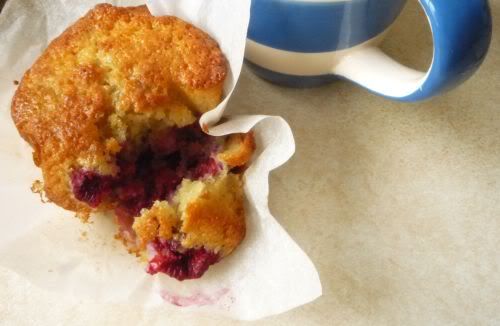 If you feel so inclined sprinkle with a little icing sugar to take the level of fancy up a notch. I also added some chopped white chocolate into half the batch - if you're a white chocolate lover, white chocolate and raspberry is hard to beat.
Cool on a cake rack and eat slightly warm or room temperature.
Outside of the kitchen, I picked my onions this week, unfortunately many of them have gone to seed, but it means that I now have the most amazing looking vase of offensive smelling flowers on my table. Fortunately I have an almost permanently blocked nose in summer with hayfever, so I just get to enjoy how they look! The cat had to come check them out too - that's Nicki on the table there.. naughty girl!
I baked pikelets which we ate slathered in morello cherry jam, you can see those on the table too - and cooked the most delicious Italian onion soup - you can see the cookbooks sprawled over the table. I ended up choosing a recipe which was low fat and utterly delicious. I'll share that with you soon. Going to the library and coming home with a massive stack of cookbooks is one of my absolute favourite things to do.
I also pulled out these this week.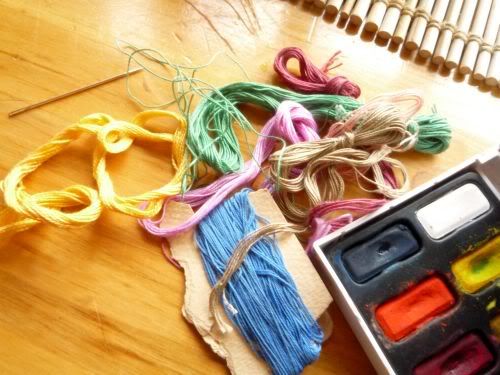 I had a little fun creating mixed media gardens, stitching and drawing and painting on heavy watercolour paper.

This one underneath went on the front of a package to Leah in Wellington
as the address label- but it doesn't seem to have arrived yet, I really
hope it's not gone missing.
I also had the urge to paint foxes, some of them were quite .. err
mishapen and rather frightening looking !
After much trial and error I came up with this little lady - who I think I'd like to play with some more. She's a little smudgy - she is only a test fox afterall. She is about 3 cm high.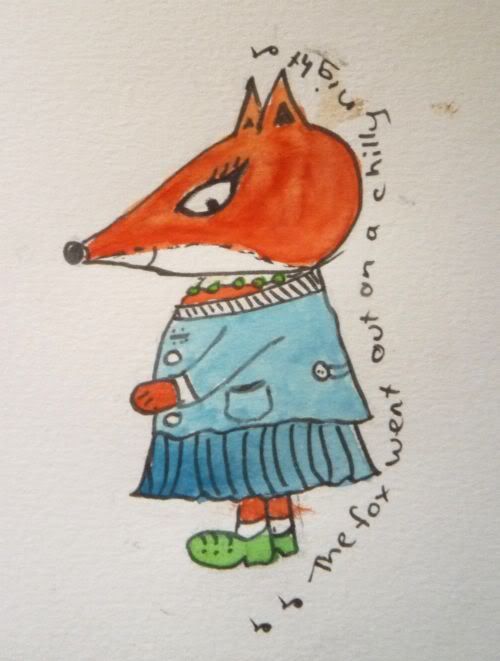 Remember to spend time doing the things you love with the people you love, create some memories together. Take a little time for you, or maybe just bake the muffins - they're good. Until next time - Ciao Bella!