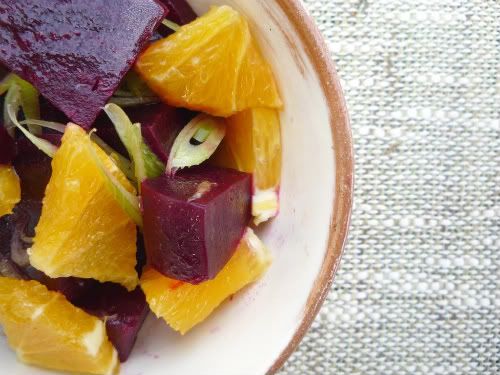 I've had enough sugar this week. Although I love to bake and have something sweet in the pantry to have with my evening cup of tea, after all the chocolate in the past week or so I just need some uncluttered and healthy food.
This is a very simple recipe, but one that is flavourful and healthy. The colours in the salad are just beautiful on their own. If it's not fresh beetroot season where you are, you can use canned beetroot chunks or small whole baby beet if you wish. Sometimes I make this with the fennel, sometimes without, but either way it's a bright spot on your plate.
We have beetroot growing in the garden at the moment, but they are barely more than a few red speckled leaves and struggling a little. The lovely beets that are in this recipe came from our local farmers market.
Roasting your beetroot tends to give them a richer flavour.
Beetroot, Fennel & Orange Salad
4 medium sized beetroot, cooked (you can either roast in the oven until tender or boil in a large pan until they are tender when skewered)
2 Oranges - sliced
Fennel - three baby fennel bulbs sliced julienne
Your beets should be cold for the salad
Slice your beets into chunks, oranges into segments and julienne your fennel
Combine gently and drizzle Orange vinaigrette over the top
Orange Vinaigrette
Juice of one orange
1/4 cup of olive oil (can be omitted)
3 Tblspns balsamic vinegar
snipped chives and fennel leaves
salt and pepper to taste
Combine all the dressing ingredients in a jar with a screw top lid.
Shake well to combine.