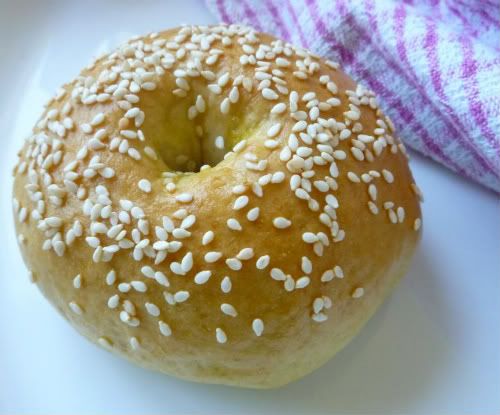 Ryan is my oldest son. All my kids like to spend time in the kitchen in various ways, Leah likes to bake, Isaac enjoys doing all kinds of little helpful tasks and Ryan likes to make bread. This weekend Ryan and I decided to make bagels together.
We set aside the time - because they do require you to be around and take slightly more effort than your standard bread. The kneading takes longer if you do it by hand because the dough is so stiff.
They also have the additional step of being boiled. But they are oh so worth it.
There is nothing like the smell of bagels straight out of the oven. This recipe makes roughly 20 bagels and by the end of the day there were only a handful left.
If you want something to potter with in the kitchen on a rainy day, these are perfect. The results are great, a chewy soft bagel that is every bit as good if not better than many that you would buy. Ours were smeared with cream cheese and smoked salmon, the best combination of bagel toppings in my book. We used the recipe from Home Cooking in Montana as a basis which has nice step by step instructions. Very clear and easy to follow. I could not find my usual bagel recipe - it's lurking somewhere in my stack of recipe books I suspect.
Bagels with Ryan
Makes 18-20 bagels
Dough
7 cups white high grade flour
1 Tblspn salt
1 1/2 Tbspns active dry yeast or 1 Tblspn instant yeast
2 Tblspn sugar (divided use if using active yeast)
1 Tblspn oil
2 1/4 cups warm water (divided use if using active yeast)
Combine flour, salt and yeast in a bowl if using instant yeast.
If using active dry yeast - place your yeast in a small bowl with roughly half a cup of your water and 1 tspn of your sugar. Set aside until foamy before use, this takes roughly 5 minutes.
Add sugar and oil to the water and pour over the dry ingredients. If you are using active dry yeast add in your foamy mixture and your remaining warm water and sugar with the oil.
If your dough seems very dry don't be afraid to add a small amount of additional liquid. The moisture content of flour can vary. The dough for bagels is not a particularly soft dough however.
Knead well for about 7-8 minutes if using a mixer or roughly 20 minutes by hand - use the windowpane test to see if your dough is ready to set aside and rise.
Form into a ball and put into an oiled bowl turning once to coat dough. Cover with plastic or a kitchen towel and let rise one hour or until doubled.
Ready to shape
Take a lemon sized piece of dough and shape into a ball - push your finger through the centre to make the hole in the bagel. You need to make the hole a little larger than you think it needs to be (I hope that makes sense) because as the dough rises again after shaping the hole will be smaller.
Ryan had the best technique for shaping - kind of pushing the edges under to make a smooth ball and then pressing his finger through the top. My technique - well .. lets just say I'm working on it.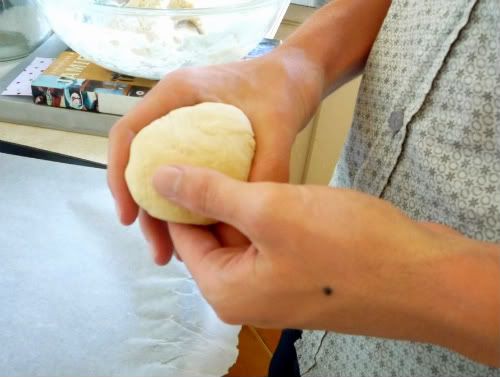 Isaac had to get in on the act too, he had a somewhat interesting
approach to shaping .. squeeze the dough as hard as you can then twirl it around on your finger super-fast.. I can't say that worked very well, but it looked like fun!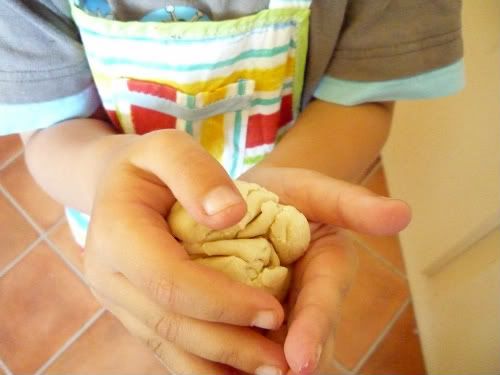 After shaping your bagels they need to prove again - set them on the trays nicely shaped and leave to rest for roughly 20 minutes, cover with a slightly damp cloth so they don't dry out.
This is what they looked like after resting for 20 minutes.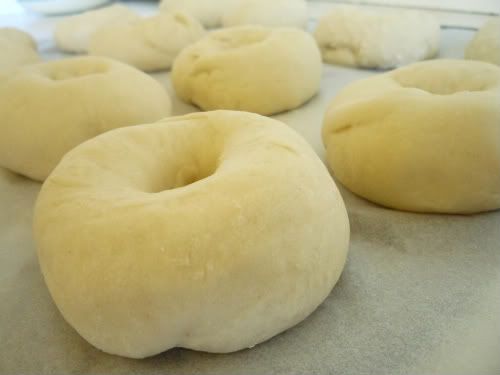 Preheat your oven to 180C/350F.
Bring a large pot of water to the boil which has the following added to the water.
2 Tblspns of sugar
5 tspns baking soda
place 2 or three bagels in the water at a time to boil for roughly 1 minute. Place the bagels in with the top side down. Lift gently out of the water with a slotted spoon and drain well before placing on a parchment lined tray.
Brush with beaten egg and sprinkle your favourite toppings over your bagel. We decided to go with leaving some plain and some with sesame seeds today.
Pop into the oven and bake for roughly 20 minutes in the centre of the oven. We only did one tray at a time since our oven has a bit of a mind of it's own.
You will have a beautiful pile of warm, chewy bagels to sink your teeth into.
If you are not already in New York, these will transport you there with their warm scent and the shiny surface that only a bagel has.. smear them with your favourite bagel toppings, toast them, melt cheese on them or turn them into a burger by slicing them in half.
We enjoyed making them so much we are going to make them again next weekend as a cinnamon raisin version. They are worth the little bit of effort they take, there was a real sense of pride in making these glossy sesame bagels. Maybe next time I'll be able to shape them as beautifully as Ryan does.