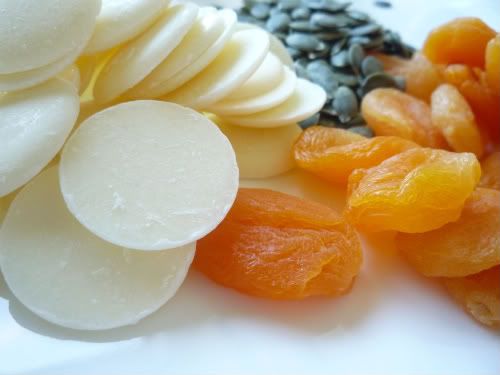 Kit hates apricots. I love apricots. Kit hates white chocolate, so do Isaac and Leah. I like white chocolate. Ryan and Leah hate fudge type slices. I love fudge type slices. This easy, no bake slice has all of those features. Chunks of white chocolate dotted through a fudge slice and scattered with clumps of sunny apricot pieces and green pepitas for crunch.
I figured that in making this I might actually get to eat most of it myself and have some to offer to people that happened to call in. Well, it turns out that despite having features that everyone in my house finds completely abhorrent except for me - this slice is absolutely delicious and everyone likes it. They're all eating it!
My secret plan of actually getting to consume more than one or two
pieces of it failed utterly. The rather large container filled to the brim with this moreish creation seems to be emptying at the usual rate, that's because this is very, very, good.
Don't let the simple list of ingredients fool you, there is something about this combination that just works.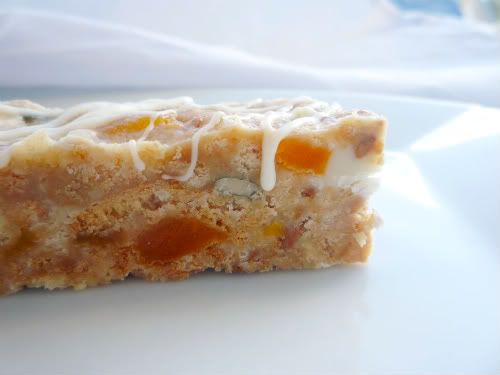 White Chocolate, Pepita & Apricot Slice
Line a 24cm slice pan with baking paper and set aside.
250 grams of butter
175 grams of brown sugar
375 grams of sweetened condensed milk
500 grams plain cookies - crushed (I used one plain package and one malt flavoured)
2 cups of roughly chopped dried apricots
1 cup of green pepitas (pumpkin seeds)
200 grams of chopped white chocolate plus extra for drizzling
In a large saucepan place the brown sugar, condensed milk and butter.
Heat gently stirring continuously until thick like caramel sauce then remove from the heat.
Add in the crushed cookies, chopped apricots and pepitas, mix well. Cool slightly and add in the chopped white chocolate and mix again.
Press into your lined pan and refrigerate for one hour.
Cut into slices and drizzled with a little melted white chocolate if desired.
Store in an airtight container.
Do cut this after roughly an hour, it does not need to be stored in the fridge after it's cooled. If you keep it in the fridge for longer than an hour before cutting it will be a little too hard to cut.
Also don't count on getting more than a couple of slices for yourself if you live with other people!