I fell in love with Gianduja (pronounced, zhahn-DOO-yuh) about a year ago when I was looking for something to include in a Christmas gift box for my family. I discovered it on Nila Rosa in the form of Peanut Gianduja. I made it - loved it, and then did not want to give it away. I ended up making another batch just to keep. It's melt in the mouth delicious and so simple to make. It is a little fiddly coating the chocolates, but oh.. so worth it…
Just three simple ingredients will have the recipients of these chocolates stunned that you made them yourself. They taste amazing and with the use of chocolate transfers they look incredible too. I am not a skilled candy maker, in fact candy and I have a love hate relationship. I love it, but I cannot ever get it right. But this one even I can make. I adapted this slightly from the original recipe.
If you cannot get Almond butter (most health food stores stock it - along with hazelnut and cashew butter) you can use smooth peanut butter. I've given you a step by step so you can feel confident making this.
I'm sure there are all kinds of special chocolate making tools that would make this easier. But I wanted to just make this with the ordinary things that most of us would have on hand.
Almond Gianduja
250 grams white chocolate
250 grams Almond butter
300 grams dark chocolate
1 sheet of chocolate transfers cut into roughly 1 1/2 inch/3.5 cm squares
Note: It is just equal quantities of white chocolate and a nut butter of your choice. I find this amount is just right for an 8 inch/20 cm square pan.
Wear an apron - it's messy, chocolatey, messy.
First measure out your Almond butter into a bowl
Melt your white chocolate either in the microwave or in a bowl over hot water.
Mix your Almond butter and white chocolate together and pour into a parchment lined 20 cm/8in square cake pan.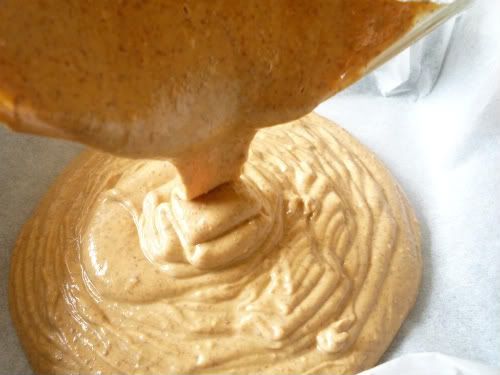 This is the filling for your chocolates.
Now put it in the freezer for at least an hour until it is set and cold. It needs to be cold because when you dip it in the dark chocolate to coat - the warm chocolate will soften the filling and you will end up with a puddle instead of a chocolate almond filled marvel.
Once your filling is set and cold, melt your dark chocolate in a bowl over hot water or in the microwave. I like to use the microwave because I am less likely to overheat the chocolate and when it gets slightly thick I can give it another short burst to heat it slightly. You will find you need to reheat your dark chocolate several times while you are dipping and coating.
Place a piece of parchment on a small tray on your work surface - this is where you are going to coat your chocolates and you want a tray that will fit in the fridge.
Take your gianduja filling out of the freezer and cut one strip of filling roughly 1 inch/2.5 cm wide. Put the remaining gianduja in the freezer again. Just work with one strip at a time so that the filling stays as cold as possible. Go back and cut a new strip when you have completed the first, until you have used all the filling.
Cut your strip of gianduja into small squares - roughly 1 inch in size.
On a fork, dip into the melted dark chocolate, making sure that you coat all the chocolate - including the bottom. The filling is soft when thawed so if you have little gaps in your chocolate coating your filling will leak out.
Make sure you scrape off any excess chocolate from the bottom of the fork, I just tend to use the side of the jug I melted the chocolate in. It seems to work ok for me. If your chocolate gets too thick, reheat it slightly.
Place carefully on to your parchment lined tray. Place a square of the chocolate transfer on the top of each chocolate pressing down ever so lightly just to make sure the transfer is in contact with the chocolate.
When you have completed your tray full, pop them in the fridge.
When the chocolate is completely set - don't be tempted earlier - slowly remove the transfers. This could be about 20 minutes. Be patient - your chocolate needs to be set, if you rush this bit your transfers will not errr.. transfer. I discovered this because I am not a very patient person….at least when it comes to chocolate.
But I know you are patient and will wait to pull off the transfers and this will be your result.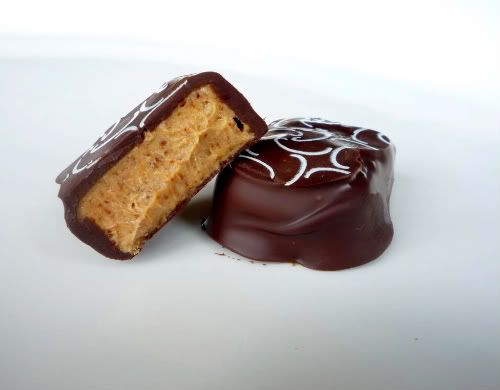 Package up your chocolates if they are going to be a gift - or just eat them and be proud of yourself for making something gorgeous.