I can see a lot of slightly puzzled looks out there from people over the title of this, so I'll set this straight right from the start
I'm not talking about any of these items pictured above.
I'm talking about Afghan biscuits - no, not the US interpretation of biscuits - cookies. Afghan cookies which do not come from Afghanistan, but from New Zealand. The origins of the name are lost to time, although this recipe has appeared in the Edmonds
Cookbook for many years.
Now that we have that cleared up, how about a recipe for a melt in the mouth chocolate cookie which has a nice crunch to it?
These were my favourite biscuits as a child; when I opened my lunch box and saw one I was always really pleased. There was one downside to Afghans, at least from a child's perspective. There was the small matter of having a walnut on top which I had to dispose of without anyone seeing.
My mother eventually gave up putting walnuts on the top because I would come along and take a biscuit and remove the walnut or suck all the icing off it then spit it out. Of course now I like walnuts but in homage to my childhood I put a different topping on them for all the walnut hating children out there.
These biscuits are a national favourite, they're in bakeries, cafes, children's lunch boxes and seen at school ftes all over the place, usually with a walnut on top. These are great everyday baking.
Don't let the simplicity of the recipe fool you, these are fantastic biscuits.
Things do not have to be complex to be just plain good. I have not
changed the recipe at all, it's perfect as it is.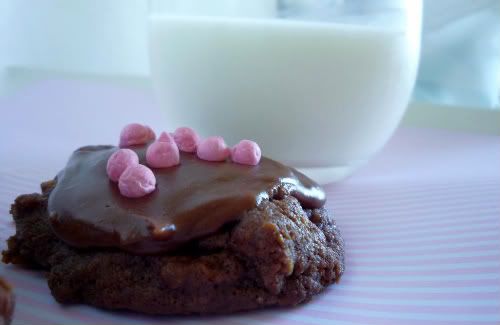 Afghan Biscuits
Makes 30 - from the Edmonds Cookbook
200 grams/7 oz of butter
1/2 cup of sugar
1 1/4 cups of flour
1/4 cup of cocoa
2 cups of cornflakes
Cream butter and sugar until light and fluffy. Sift flour and cocoa and stir into the butter and sugar mixture. Fold in cornflakes.
NB: I have never been able to fold these in, the mixture is not folding consistency - a better description might be mix in as gently as you can without breaking the cornflakes into tiny crumbs.
Spoon large teaspoonfuls on to a parchment lined or greased tray. Bake at 180C/350F for 15 minutes or until set.
In my oven they do not take as long as 15 minutes. Keep a very close eye on them after 11 minutes, don't let them get dark around the edges.
When cold ice/frost with a simple chocolate icing made with icing sugar, butter, cocoa, vanilla and hot water. Ganache would tend to make these soft, if you're eating these on the same day Ganache would be fine. The confectioners sugar icing also makes them lunch box suitable - it's a little more robust than a buttercream or ganache. Royal icing would be fine too.
Top with a walnut if you want to go with the traditional version or if you have walnut haters around, alternatives work well too. I used these cute little strawberry millions to top them.
I've had Afghans with the addition of chopped dried apricots, walnuts and raisins but honestly I think they are best left as they were intended to be. A simple everyday biscuit to be discovered wrapped in waxed paper in your lunch box or to munch on with a hot drink at the end of the day.
Cookie comfort food at it's best.