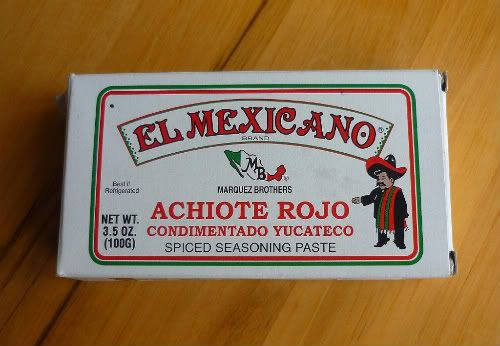 I found this little box of seasoning paste on the top of my microwave after my mother in laws last visit to New Zealand. Shes a fantastic cook and baker, and has had many opportunities to experience all kinds of foodie dreams that I could only wish for.
Rather than send her an email and ask her what this little box with the Mexican guy on it was, I decided to let Mr Google do the work. Im a bit silly like that, very independent and I like to pretend I know everything.
Well - Gourmetsleuth very kindly told me that achiote is a traditional ingredient used to make Ricado, a rub for suckling pig and other meats.
I cant really say that suckling pig was on the menu for this year, or in fact this life, so I scratched that one off the list.
Then I stumbled upon what I suspect was its intended purpose, its to make Mexican rice! Then I looked a little further and discovered some recipes for chicken breasts marinated in a paste made from the Achiote Rojo, which said to serve with Mojo Rojo, now - with a name like that I started to get somewhat excited - grabbed my Sombrero and tossed on the Mariachi CD. Ok, I made that up, but I decided to cook these delicious sounding tacos after poking around on the net for some time.
Achiote Rojo Fish Tacos & Chipotle Mayonnaise
I was inspired by the LA Times recipe for Achiote Rojo Fish Tacos, if you cannot get the paste pre-made, you can make it yourself with a handful of ingredients if you can get the Annatto seeds. You will have to forgive me for not being completely original here, but I have never seen this stuff before!
Ingredients
500 - 700 grams of medium fleshed fish, filleted and boned.
one package of Achiote Rojo or make your own paste
1/2 cup of mayonnaise
2 limes
3 cloves of garlic
salt
Oil to fry
Chipotle peppers in sauce
half a small cabbage
12 small corn tortillas
First marinate your fish in about 3 Tblspns of the Achiote Rojo and two cloves of garlic finely chopped or crushed. I tossed mine in a snap lock bag and put it in the fridge for about an hour or so. I used red cod today, which was a little soft, but fine for the tacos. Choose what looks freshest and best.
Chipotle mayonnaise
Into the food processor place
1/2 cup of mayonnaise more or less (it does not need to be exact)
2 Chipotle peppers in sauce
1 clove of garlic (chop it a little first)
salt to taste
juice of half a lime
Blitz until it's smooth, chill until ready to serve on the tacos.
Chop some cabbage finely to add into your tacos - set aside and keep cool.
Warm your tortillas by frying in a lightly greased pan briefly on each side, keep warm until you are ready to serve.
I want to show you this.
Look at this nifty little tortilla warming pocket. I'm sure it has a proper name but I don't know what it is. My lovely mother in law gave it to me a long time ago, and I use it all the time. A couple of clean tea towels will do fine at keeping your tortillas warm if you don't have a handy little tortilla warming pocket like this.
Now gently cook your fish, with a little oil in the pan. I did not use a non stick pan and the fish stuck to the pan somewhat, but that's ok, since I was going to break up the fish a little to put in the tacos anyway. You could use a non stick pan if you wish. Turn only once during cooking.
Place your cabbage into the warm tortilla, top with the fish and the Chipotle mayonnaise, squeeze over a little lime juice and eat.. and then eat another one etc. These are absolutely hands down the best tacos I've ever eaten.
I decided to do the fish version, but I am sure that chicken would work just as well. I'm very glad that my mother in law left the box of Achiote Rojo behind, because now I know I can make these. From the time I took the fish out of the fridge, they took maybe 10 minutes to get on to the table, so they are a really fast meal.
Gracias Courtney! Esta Bueno!