Why Sunday Hotpants? When I was a child in the 60's my mother made my sister and I matching hotpants, I loved them as much as I loved my green vinyl Emma Peel dress. I was not allowed to wear them to school, but I was allowed to wear them in the weekend. The weekend is when I get to do most of my cooking and experimenting in the kitchen.
I live in Dunedin, New Zealand in the very south of the South Island. Temperate climate and home to some of the most fantastic cooks in the country. People still make things the way they used to many years ago, but still are willing to try all kinds of new things.
I'm a mother of four children, all unique in their own way. In 2009 our 9 year old son Fynn, died unexpectedly. This blog has been my therapy and an attempt to fill the many hours that stretched in front of me.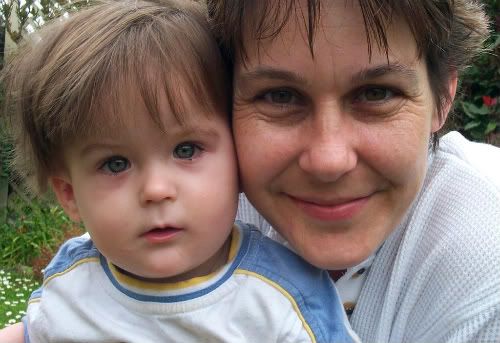 This is me and Fynn when he was 2 years old. I'm not posting an old photo to try to hide my well earned grey hair, I just love this picture of Fynn and his green eyes. His loss has left all of us all bereft. Cooking, caring for my family and filling my days with crafts and looking for joy and beauty in the world around me keeps me going.
I've always loved to cook, knit and craft, I do not profess to be an expert in any of them. The food I make is very ordinary home cooked food, nothing fancy, just delicious (all going to plan that is!). I also like to use as few gadets as possible, my wooden spoon and mixing bowls are used more than anything else. I'm a firm believer that children should be involved in kitchen activities.
I'm an advocate for anyone that is different, particularly those that are not in a position to speak for themselves. Children with disabilities are close to my heart. During the day I'm a Speech Language Therapist, and I work with children under 5 years of age with disabilities of varying kinds.
Living in New Zealand in the deep south also gives a slightly different perspective on life in general as well as the food that comes out of my kitchen. I feel very privileged to live in this part of the world.
I have three children still in this world with me. Isaac is the only one at home now Leah and Ryan both having started their own lives. Both are excellent cooks! Thanks for joining me in my kitchen and sharing a part of my days.
I hope you enjoy reading my blog, as much as I enjoy posting on it.
Lisa Randel